Global Expert Finder held a lively and thought-provoking debate at the New York Times on Wednesday 21 July 2010, on some of the key challenges on US engagement in the Middle East. Moderated by award-winning New York Times columnist Roger Cohen, the panel featured a number of high-profile speakers including Reza Aslan, writer and commentator, Martin Indyk, VP for Foreign Policy, Brookings Institution, Joe Klein, columnist, Time Magazine, Professor Marc Lynch, George Washington University, and Dalia Mogahed, Executive Director of the Gallup Center for Muslim Studies.
In a wide-ranging discussion, panelists debated key questions including the prospects for an Israeli-Palestinian peace agreement, the viability of the two-state solution, relations with Iran, the wars in Iraq and Afghanistan, and the importance of public opinion on shaping US policy towards the Muslim world.
This event is the first in a series of Global Expert Finder debates from the United Nations Alliance of Civilizations (UNAOC). The event convened an audience composed of members of the New York media community, policy-makers and members of the public. The topic was chosen in light of the recent one-year anniversary of President Obama's address in Cairo.
The next event in the Global Expert Finder debate series will focus on migrant integration and will be held in the fall.
Global Expert Finder is an independent online resource of opinion leaders who provide quick reactions and accurate analysis to journalists worldwide on complex political, social and religious issues and crises, and works to diversify the range of voices represented in the media.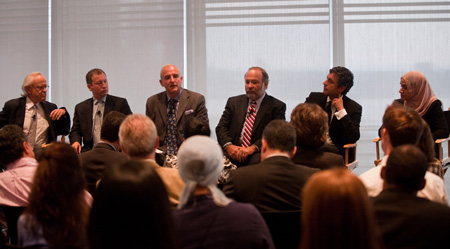 Latest articles from Editor