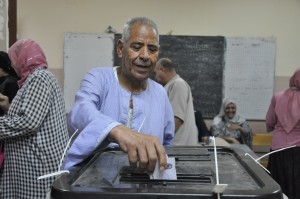 CAIRO, EGYPT – Professor Abdallah Schleifer weighs in on Egypt's anticipated presidential election results through his exclusive interview with Global Experts. His full interview will be published following the announcements.
"We know it's big question mark. What happens if the Muslim Brotherhood loses? What happens if Shafiq loses? Well, I think he doesn't have a mass movement at his fingertips. He has what remains the old Mubarak NDP, some highly placed businessmen, some sympathy in the army, but he's not going to make a decision to move against the Brotherhood, if the Brotherhood wins. That would be the army; SCAF says they will respect whoever wins. How do you interpret that? Time will tell. I mean, we're in a situation now where you can only say "Allah a'alam" – Only God knows. I find myself saying that a lot over the past year and a half when I have been asked to make analysis. Only God knows and time will tell.  We are waiting. Everybody in Cairo is waiting its fate."
Click here to listen: Abdallah Schleifer: Egyptian Presidential Elections Analysis

Professor Abdallah Schleifer is a veteran journalist who has covered the Middle East for American and Arab media for more than thirty years. He is currently Professor Emeritus at the American University in Cairo.
Latest articles from Abdallah Schleifer
One Response to "Israeli-Palestinian Peace Talks: Not Dead, but Certainly on Hold"