With the general election coming up, women's groups will be scrutinising political manifestos on issues of equality and justice for Malaysian women. IT'S that time of the year when we, women's rights activists in Malaysia, sigh again as we celebrate International Women's Day on March 8.
Executive Director, Sisters in Islam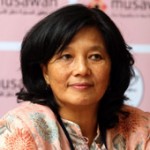 Zainah Anwar is the Executive Director of Sisters in Islam (SIS), a non-governmental organisation dedicated to strengthening the rights of Muslim women within the framework of Islam.