Executive Director, Virtual Activism

Dr. Marlyn Tadros teaches Computer and Internet Technologies at the Arts Institute of New England in Boston. She is a specialist on human rights in the Middle East, with a particular focus on the role that technology can play in promoting human rights.
Director, Bibliotheca Alexandrina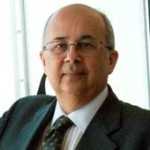 With twenty-one honorary doctorates and a PhD from Harvard University, Dr. Ismail Serageldin is considered a specialist on sustainable development issues, particularly related to scientific and agricultural development. He is a former Vice President of the World Bank, and the current director of the Bibliotheca Alexandrina.