Somalia has been gripped by almost two decades of ceaseless violence. Riz Khan, Al Jazeera anchor and Global Expert, discusses the political stability and security situation inside this Horn of Africa nation, and discusses what can be done to help the fractured nation recover.
News Anchor, Al Jazeera English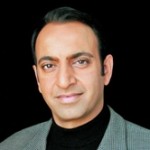 Riz Khan is an international journalist based in Washington, D.C. in the United States, and Dubai in the United Arab Emirates. He is currently a news anchor for Al Jazeera English, and previously served as a senior anchor at CNN International.