Reports this week that the Obama administration is suspending some $800 million in military aid to Pakistan confirms what everyone already knows: the relationship between the two erstwhile allies in the war on terror is teetering on the verge of collapse. Indeed, there are powerful voices in both countries calling for a complete severing of ties.
Last September, when President Obama invited Israeli Prime Minster Benjamin Netanyahu and Palestinian President Mahmoud Abbas to the White House to launch a new round of peace talks, he invoked the great historical figures on both sides of the conflict who had come before them. "Each of you are the heirs of peacemakers who dared greatly – Begin and Sadat, Rabin and King Hussein – statesmen who saw the world as it was but also imagined the world as it should be," the president said. "It is the shoulders of our predecessors upon which we stand. It is their work that we carry on."
Middle East Analyst, CBS News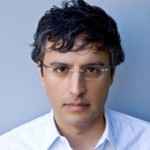 Reza Aslan is a Middle East analyst for CBS News, and a fellow at the University of Southern California's Center on Public Diplomacy.