A European issue par excellence, the Roma issue has undisputed potential to rouse nationalism. It can kill the European dream. Unless and until the EU is committed to urgently improving the situation of the Roma in Bulgaria and Romania, France will have to find strength to remain itself, says Caroline Fourest.
Assistant Professor of Political Science at Tel Aviv University and specialist on ethno-nationalism

Dr. Uriel Abulof is an assistant professor at Tel Aviv University's Department of Political Science and an associate at Princeton University's Liechtenstein Institute on Self-Determination, based at the Woodrow Wilson School of Public and International Affairs. His research focuses on ethno-nationalism in the Middle East, Canada, the Balkans and South Africa.
Director, Columbia University Center for the Study of Ethnicity and Race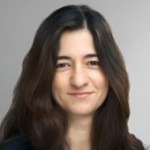 Dr. Frances Negrón-Muntaner is an award-winning filmmaker, writer, and scholar.