Religion, that private balm for the soul, often enters the public space when politics forcibly pulls it through. The Federation of Malaysia is no exception. The Federal Constitution, crafted by our founding fathers at independence in 1957, attempted to accommodate our multicultural society by defining specifically who the main inhabitants of the country were.
In early July this year, the Prime Minister of Malaysia Najib Razak announced that two women had been appointed judges in the country's Syariah Courts. One of two court systems in Malaysia, these courts rule on cases that are subject to sharia law, which is based on Islamic principles. Women's groups, including Sisters in Islam (SIS), the group I belong to, hailed this as a long awaited move given the many problems that women face in the Syariah Courts, especially in matters related to the family.
Malaysian blogger and women's rights activist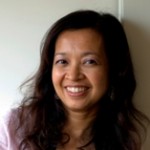 Marina Mahathir is a Malaysian writer, blogger and activist with interests focused on the issues of Muslim women's rights and HIV/AIDS.