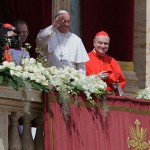 Catholic Cardinals elected new pope, Jorge Mario Bergoglio from Buenos Aires,Wednesday afternoon in Vatican City. He is the first South American pope to be elected.
Brazil is seen as a country of diverse and profound faith. But though religion is an important reference point in the lives of the population, the extent of religious diversity in this sprawling country is not nearly so pervasive as belief itself.

Maria José Rosado-Nunes is a graduate professor of sociology of religion and feminist studies at the Pontifical Catholic University of São Paulo. Se is currently a researcher at the National Researcher Center (CNPq).