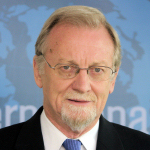 This Stockholm International Peace Research Institute (SIPRI) is an independent international institute dedicated to research into conflict, armaments, arms control and disarmament.
The United States and Russia have signed a new Strategic Arms Reduction Treaty (START), as world leaders gear up for next week's nuclear security summit in Washington. Al Jazeera's Divya Gopalan speaks to Gareth Evans, GEF analyst and co-chair of the International Commission on Nuclear Non-proliferation and Disarmament, on the latest developments.
Former Australian Foreign Minister and President of International Crisis Group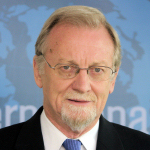 Gareth Evans is the former foreign minister of Australia and the current president and chief executive of International Crisis Group, an independent international non-governmental organization with over 140 staff members on five continents. Through field-based analysis and high-level policy advocacy, this agency works to prevent and resolve deadly conflicts around the world.