When the Secretary General of the United Nations recently said that failing to invest in the one billion young people of the world "is a false economy," he certainly had more in mind than just a useful business idea.
Director General, Council of Europe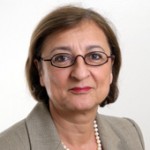 Gabriella Battaini-Dragoni is the Director General of Education, Culture and Heritage, Youth and Sport at the Council of Europe. She is the first woman ever to be nominated to the rank of Director General in the Council of Europe, a post she has held since 2001 when she was appointed Director General of Social Cohesion.