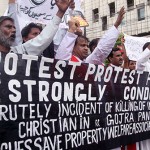 Pakistani Christians took to the streets of Lahore on Sunday to protest a rash of violence against their community over the weekend. (Sources: New York Times, Al Jazeera, Huffington Post)
In contrast to most South Asian countries, modern India has always been officially "secular", a word the country inscribed in its Constitution in 1976. Secularism, here, is not synonymous with the French "laïcité", which demands strong separation of religion and the state. India's secularism does not require exclusion of religion from the public sphere. On the contrary, it implies recognition of all religions by the state. This philosophy of inclusivity finds expression in one article of the Constitution by which all religious communities may set up schools that are eligible for state subsidies.
Senior Research Fellow, CERI

Christophe Jaffrelot is a French political scientist and expert on South Asia, particularly India and Pakistan. He is the former director of CERI at SciencesPo in Paris, France's foremost center for research on international politics, and served in this role from 2002-8. He has written frequently about nationalism in India and Pakistan, and the political roots of Hindu-Muslim conflict. He chairs the Asia Group at the French Ministry of Foreign Affairs, and is frequently called upon to provide policy-level advice on developments in South Asia.