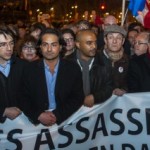 Police are still on the lookout for the motorcycle gunman who killed 3 Jewish children and a rabbi at a school in southern France yesterday. The incident is being considered a racially motivated crime.
Research Fellow, IRIS

Jean-Yves Camus is a political analyst and a research fellow at IRIS. He frequently comments on European perceptions of Israel.
Associate Professor, University of Bayreuth

Dr. Alejandro Baer is Associate Professor at the University of Bayreuth, Germany, where he teaches in the Department of Sociology, Culture and Religion. He is an expert on the Holocaust, modern-day anti-Semitism in Spain and Europe, and global attitudes towards Israel.