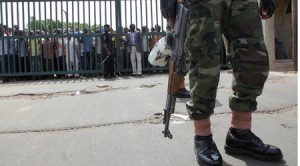 April 18, 2011, Abuja, Nigeria – Presidential elections were reasonably free and fair, according to international observers
Incumbent Goodluck Jonathan has been declared winner in the presidential poll, with the electoral commission saying he received about 57% of the vote
Rioting spread across the Muslim north – the opposition's powerbase, with over 101 people injured according to Red Cross estimates
Homes of supporters of Mr Jonathan, a Christian from the oil-producing Niger Delta and the candidate of the governing People's Democratic Party (PDP), were attacked in the cities of Kano and Kaduna
The People's Democratic Party (PDP) has won all elections since the end of military rule in 1999, leading a nation of about 150 million people since May, 73 million being registered to vote.
Analysts available for comment:
Analysts available for comment:
MARC ANTOINE PEROUSE DE MONTCLOS is a specialist on armed conflicts in sub-Saharan Africa, and a researcher at the Institut de Recherche pour le Développement, Paris. He has lived in Nigeria, South Africa and Kenya, and is the author of Le Nigeria (1994), Violence et sécurité urbaines (1997), L'aide humanitaire, aide à  la guerre? (2001), Villes et violences en Afrique subsaharienne (2002), Diaspora et terrorisme (2003), Guerres d'aujourd'hui (2007) and Etats faibles et sécurité privée en Afrique noire (2008). See full bio…
marc.perouse@theglobalexperts.org
Location: Paris, France
Languages: English, French
SABINE MACHENHEIMER is Sub-Saharan Africa Analyst for IHS Jane's. She writes and edits for Jane's Sentinel, Jane's Intelligence Review, Jane's Intelligence Weekly and Jane's Country Risk Daily Report. She is available to give analysis and interviews on all dimensions of politics and conflict in Sub-Saharan Africa. See full bio…
sabine.machenheimer@theglobalexperts.org
Location: London, UK
Languages: English
SARJOH BAH is a Senior Fellow and Program Coordinator of African Security Institutions, at New York University's Center on International Cooperation. He is a leading authority on security cooperation in Africa with a particular focus on the African Union. See full bio…
asarjoh.bah@theglobalexperts.org
MICHAEL WATTS is a professor of geography and development studies at the University of California, Berkeley. He is a leading scholar of Nigerian politics and society, and was a 2003 Guggenheim Fellow for his research on the oil politics of the country.
mwatts@berkeley.edu
Location: Berkeley, California, USA
Languages: English
FABIENNE HARA is Vice-President of International Crisis Group, and former Acting Chief of the Political Affairs Division for the UN Mission in Sudan. She has over fifteen years of experience in African conflict management and resolution issues. See full bio…
fabienne.hara@theglobalexperts.org
Location: New York, USA
Languages: English, French
Latest articles from Stephanie