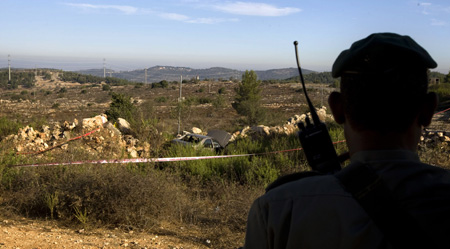 BEIT FAJJAR, PALESTINE – Tensions are high in the Occupied Territories after Israeli settlers destroyed a mosque on the West Bank.
Al-Anbiya mosque was set ablaze in the Palestinian town of Beit Fajjar on Monday morning by a group of Jewish settlers.
Prayer rugs and Qurans were burnt, and Hebrew graffiti written on the walls.
Local residents call for revenge, claim settlers originated from Gosh Etzion settlement.
Israeli Army pledges to hunt down perpetrators.
Analysts available for comment:
DANIEL LEVY is Director of the Middle East Task Force at the New America Foundation. He is the former special advisor and head of Jerusalem Affairs for Ehud Barak, and official Israeli negotiator at the Oslo  and Taba peace talks. See full bio…
daniel.levy@theglobalexperts.org
Location: Washington, D.C., USA
Languages: English, Hebrew




RAMZI KHOURY is a special advisor to Mahmoud Abbas, president of the Palestinian Authority. He is based in Ramallah, West Bank. Previously,  he has worked as a strategic communications consultant, journalist and columnist. He is also the CEO of Strategy Falcons LLC, an Arab strategic communications company based in Dubai, with offices throughout the region. See full bio…
ramzi.khoury@theglobalexperts.org
Location: New York, USA
Languages: English, Arabic




MEIR JAVEDANFAR is Director of the Middle East Economic and Political Analysis Company, which carries out analysis of 16 Middle Eastern countries from its offices in Tel Aviv, Israel. He speaks Farsi, English, Spanish and Portuguese fluently, and has commented in all of these languages for a wide range of international media organizations including CNN, FOX News, BBC, Sky News, ABC, Associated Press, Los Angeles Times, NPR, The New York Times and others. See full bio…
m.javedanfar@theglobalexperts.org
Location: Tel Aviv, Israel
Languages: English, Farsi, Spanish, Portuguese




ALON BEN-MEIR is Senior Fellow at New York University's School of Global Affairs. He is an expert on Middle East politics and affairs, specializing in peace negotiations between Israel and the Arab states. For the past 25 years, he has been directly involved in negotiations and operated as a liaison between top Arab and Israeli officials. See full bio…
alon.ben-meir@theglobalexperts.org
Location: New York, USA
Languages: English, Arabic, Hebrew




BARAH MIKAIL is a Research Fellow at the Institute for International and Strategic Relations (IRIS). He is a specialist on Middle East issues and is the author of American Policy in the Middle East.
barah.mikail@theglobalexperts.org
Location: Paris, France
Languages: English, French




JOSE ANTONIO LISBONA is a Professor at the Graduate School of Business Management and Corporate Communications at the Instituto de Empresa. He has been a journalist and author for more than fifteen years, and is an expert on the Israel-Palestine conflict, and the regional politics of the Middle East. He is the author of Return to Sefarad. Spain's policy towards the Jews in the Twentieth Century and Spain and Israel: A History of Secret Relations.
joseantonio.lisbona@theglobalexperts.org
Location: Madrid, Spain
Languages: English, Spanish, French
Latest articles from Editor