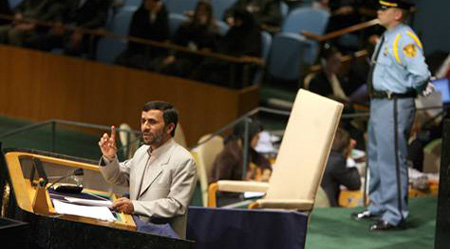 UNITED NATIONS, NEW YORK – Diplomats representing the United States and other Western powers have walked out on Iranian President Mahmoud Ahmadinejad's speech to the UN General Assembly.
After President Ahmadinejad inferred that the September 11 attacks may have been carried out by the US government in order to support Israel, several delegations walked out, led by the United States.
Global Experts available for reaction and analysis.
Analysts available for comment:
MARK FOWLER is an Associate at Booz Allen Hamilton and is former senior CIA officer. He is a Middle East specialist and served numerous tours overseas and in Washington D.C. He has particular expertise on Iran and Iraq, and speaks Farsi. Mr. Fowler currently leads Booz Allen Hamilton's 'Persia House,' a Center of Excellence on Iran and the Persian Gulf. See full bio…
mark.fowler@theglobalexperts.org
Location: Washington DC, USA
Languages: English, Farsi




MEIR JAVEDANFAR is Director of the Middle East Economic and Political Analysis Company, which carries out analysis of 16 Middle Eastern countries from its offices in Tel Aviv, Israel. He is the co-author of The Nuclear Sphinx of Tehran: Mahmoud Ahmadinejad and The State of Iran, an investigation into the mysterious past of President Mahmoud Ahmadinejad as well as the state of the Iranian nuclear program. He speaks Farsi, English, Spanish and Portuguese fluently, and has commented in all of these languages for a wide range of international media organizations. See full bio…
m.javedanfar@theglobalexperts.org
Location: Tel Aviv, Israel
Languages: English, Farsi, Spanish, Portuguese




ARANG KESHAVARZIAN is Associate Professor of Middle Eastern Studies at New York University. He is a specialist on Iran's internal politics and political economy. His recent book, entitled Bazaar and State in Iran: The Politics of the Tehran Marketplace analyzes the socioeconomic structure of the Tehran Bazaar under both the Pahlavi monarchy and the current Islamic Republic.
arang.keshavarzian@theglobalexperts.org
Location: New York, USA
Languages: English, Farsi




REZA ASLAN is a Middle East analyst for CBS News, and a fellow at the University of Southern California Center on Public Diplomacy. He is an internationally acclaimed writer and scholar of religions, and holds degrees in religion from Santa Clara University, Harvard University, and the University of California, Santa Barbara, as well as a Master of Fine Arts from the University of Iowa, where he was named the Truman Capote Fellow in Fiction. See full bio…
reza.aslan@theglobalexperts.org
Location: Santa Monica, California, USA
Languages: English, Farsi




BAQER MOIN has been writing and broadcasting about politics and society in Afghanistan, Iran and Central Asia for more than three decades. From 1990-2004 he was head of the BBC Persian and Pashto Service, responsible for broadcasts to Afghanistan, Iran and Tajikistan. He served as deputy chair of the UN Media Commission for the 2005 Afghan parliamentary elections. See full bio…
baqer.moin@theglobalexperts.org
Location: London, UK
Languages: English, Arabic




HOOSHANG AMIRAHMADI is an Iranian academic and political analyst, and professor of the Edward J. Bloustein School of Planning and Public Policy at Rutgers University, New Jersey. He is also president of the American Iranian Council. See full bio…
hooshang.amirahmadi@theglobalexperts.org
Location: Rutgers, New Jersey, USA
Languages: English, Farsi
Latest articles from Editor