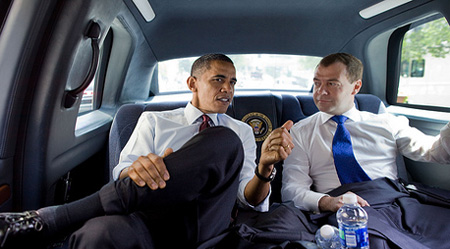 MOSCOW, RUSSIA – The Russian government has rejected US claims that it has broken up a major deep-cover spy ring.
10 suspects were arrested in the United States on Monday, and one in Cyprus today, accused of conspiracy to act as agents of a foreign government.
The suspects are accused of being deep-cover spies who attempted to penetrate the top levels of US policy-making, and reported to the SVR, the Russian foreign intelligence service.
Arrests follow decade-long investigation, and accuse suspects of attempting to acquire intelligence on nuclear weapons, the global gold market, the CIA, and US foreign and security policy.
Russian Foreign Ministry denounces accusations as 'baseless and improper'; Foreign Minister Sergei Lavrov hints at belief that arrests are attempt to undermine reset of US-Russian relations.
Analysts available for comment:
JAMES GOLDGEIER is Senior Fellow for Transatlantic Relations at the Council on Foreign Relations. He is a specialist on transatlantic relations and US-Russian relations. He is an award-winning author, former State Department official, and staff member of the National Security Council. Professor of political science and international politics at George Washington University. Author of the book America Between the Wars (with Derek Chollet, PublicAffairs Books, June 2008) and the recent Council Special Report The Future of NATO (January 2010).
james.goldgeier@theglobalexperts.org
Location: Washington, DC, USA




ALEX GABUEV is political correspondent for Kommersant, the leading Russian business newspaper. He formerly served as China correspondent for the newspaper. He has published more than 700 articles covering all aspects of Russian domestic and foreign policy. View full bio…
alexander.gabuev@theglobalexperts.org
Location: Moscow, Russia




CHARLES KUPCHAN is Professor of International Affairs at Georgetown University.  He is also Senior Fellow at the Council on Foreign Relations. He served as Director for European Affairs on the US National Security Council during the first Clinton administration. He is the author of How Enemies Become Friends: The Sources of Stable Peace (2010) and The End of the America Era: U.S. Foreign Policy and the Geopolitics of the Twenty-first Century (2002).
charles.kupchan@theglobalexperts.org
Location: Washington, DC, USA




EUGENIO BREGOLAT is former Spanish Ambassador to Russia. He served in this position immediately following the end of the Cold War, from 1992-7. His career in the Spanish foreign service spans 39 years, and he has also previously served as ambassador to Indonesia (1982-7), Canada (1991-2) and China (1999-2003). He currently serves as Ambassador to Andorra. He is a regular contributor to La Vanguardia newspaper, Barcelona, and the El Imparcial online news site.
eugenio.bregolat@theglobalexperts.org
Location: Andorra




BRENDON PATRICK O'HANLON is Associate Director for International Security and Counter-terrorism of the Criminal Justice Center and Security Management Institute. He is a former Special Agent of the Diplomatic Security Service for the US Department of State.
pohanlon@faculty.jjay.cuny.edu

Latest articles from Editor