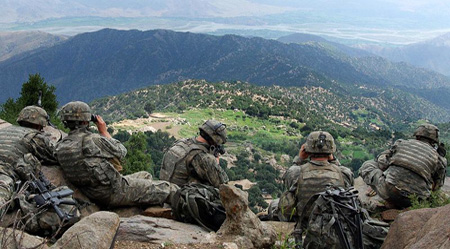 AFGHANISTAN – A new US commander is preparing to take charge of NATO forces in Afghanistan, even as June was revealed to be the deadliest month for international troops since the beginning of the war.
General David Petraeus is expected to be quickly confirmed in his post by the US Senate, replacing disgraced General Stanley McChrystal.
President Obama and Western allies declare that although command is changing, the existing Afghan counter-insurgency strategy will remain in place.
But disclosure that June was the deadliest month for NATO forces in Afghanistan, with at least 79 confirmed casualties, refocuses attention on success of the strategy and proposed timetable for withdrawal of international forces.
Questions also arise over whether proposed summer offensive by NATO in Kandahar will proceed on schedule as result of McChrystal departure.
Analysts available for comment:
SAMINA AHMED is South Asia Project Director for International Crisis Group. She leads a team of analysts focusing on examination of political, security and stability issues throughout South Asia, including problems of authoritarianism; Islamic extremism, domestic and regional terrorism; educational, security sector reform; and the US and NATO interventions.
samina.ahmed@theglobalexperts.org
Location: Islamabad, Pakistan




KENNETH STRINGER is director of Khyber House, a research center on Afghanistan and Pakistan for Booz Allen Hamilton. He took up this post in 2004, after 20 years service as a CIA operative. During his career with the CIA, Dr. Stringer served in a variety of analytic and managerial positions in the Directorate of Intelligence, including assignments in South Asia and Europe. In 2001, Dr. Stringer was selected to lead the South Asia Issue Group in the Office of Near Eastern and South Asian Analysis, a group of analysts providing critical analysis to the President and other senior US leaders.
kenneth.stringer@theglobalexperts.org
Location: McLean, VA, USA




CHARLES KUPCHAN is Professor of International Affairs at Georgetown University.  He is also Senior Fellow at the Council on Foreign Relations. He served as Director for European Affairs on the US National Security Council during the first Clinton administration. He is the author of How Enemies Become Friends: The Sources of Stable Peace (2010) and The End of the America Era: U.S. Foreign Policy and the Geopolitics of the Twenty-first Century (2002).
charles.kupchan@theglobalexperts.org
Location: Washington, DC, USA




MOHAMMAD HASHIM KAMALI is Chairman of the International Institute of Advanced Islamic Studies in Malaysia. He was actively involved in Afghanistan's post-9/11 democratic transition as a member and chairman of the Constitution Review Commission of Afghanistan, initiated in 2003.
mohammad.hashim.kamali@theglobalexperts.org
Location: Kuala Lumpur, Malaysia




BAQER MOIN has been writing and broadcasting about politics and society in Afghanistan, Iran and Central Asia for more than three decades. From 1990-2004 he was head of the BBC Persian and Pashto Service, responsible for broadcasts to Afghanistan, Iran and Tajikistan. He served as deputy chair of the UN Media Commission for the 2005 Afghan parliamentary elections.
baqer.moin@theglobalexperts.org
Location: London, UK




OLIVIER GUILLARD is Asia Research Director for the Paris-based thinktank IRIS (Institut de Relations Internationales et Stratégiques). He previously worked for the French Ministry of Defence as a geopolitical expert, with a chief focus on South Asian affairs.
olivier.guillard@theglobalexperts.org
Location: Paris, UK
Latest articles from Editor