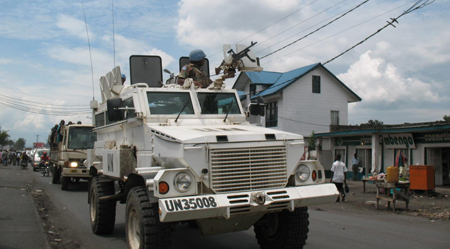 KINSHASA, DRC – The United Nations' top humanitarian official has arrived in the Democratic Republic of Congo as the security situation deteriorates in the central African state.

John Holmes, UN Under-Secretary-General for Humanitarian Affairs, is expected to meet President Joseph Kabila and call for greater protection of civilians after visiting the Kivu region in the eastern DRC, and north-eastern and western provinces of the country.
Kivu is the scene of a major military offensive by the Congolese army against Rwandan Hutu rebels, which has resulted in tens of thousands of families fleeing their homes, and a major humanitarian disaster; fighting has also included sexual violence, the use of child soldiers, and widespread looting.
Holmes will also visit the north-eastern part of the DRC, under attack from Ugandan rebels associated with the Lord's Resistance Army, and the western province of Equateur, facing an insurgency by the Enyele tribe.
Visit underscores major international concern over rapidly deteriorating security conditions in DRC, as government demands the UN Mission in the Democratic Republic of Congo (MONUC) leave the country at the end of May.
DRC has faced instability since the end of the Second Congo War, which resulted in the deaths of 5.4 million people from fighting between 25 African military factions between 1998-2003.
Analysts available for comment:
ALAN DOSS is the Special Representative of the UN Secretary-General to the Democratic Republic of the Congo and head of the UN peacekeeping mission in the Congo (MONUC), with the rank of Under-Secretary General. MONUC is the UN's largest peacekeeping operation. See full bio…
EMAIL: alan.doss@theglobalexperts.org
Location: Kinshasa, Democratic Republic of Congo



FABIENNE HARA is Vice-President (Multilateral Affairs) of International Crisis Group. She has over fifteen years of experience in African conflict management and resolution issues, particularly focusing on peacekeeping and conflict resolution, refugees and transitional justice, and Sudan and the Horn of Africa. From 2006-7, she served as Acting Chief of the Political Affairs Division of the UN Mission in Sudan. See full bio…
CONTACT: fabienne.hara@theglobalexperts.org
Location: New York, USA



PETER LITTLE is director of the Development Studies Program at Emory University. He is an expert on international development, particularly related to Africa. His topical areas of specialization include food insecurity and famine, poverty, pastoralism, rural development, and conflict resolution. See full bio…
CONTACT: peter.little@theglobalexperts.org
Location: Atlanta, USA



A. SARJOH BAH is a Senior Fellow and Program Coordinator of African Security Institutions, at New York University's Center on International Cooperation. He is currently providing research support and policy advice to the Permanent Mission to the United Nations on Canada's Chairmanship of the Peacebuilding Commission's Country Specific Configuration on Sierra Leone, and is leading the International Development Research Center's (IDRC) exploratory work in that country. See full bio…
CONTACT: asarjoh.bah@theglobalexperts.org
Location: New York, USA



Latest articles from Editor