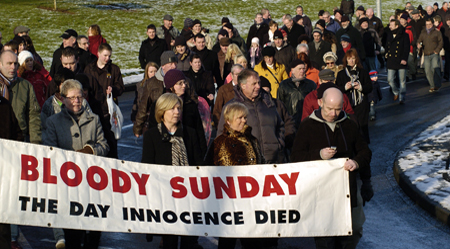 LONDON, UK – British Prime Minister David Cameron has apologized on behalf of the United Kingdom for the 1972 Bloody Sunday killings, when 13 civilians were shot dead by British soldiers at a civil rights march in Northern Ireland.

13 civilians died in the city of Londonderry (now Derry) on 30 January 1972, after British paratroopers opened fire on a crowd of civil rights activists protesting against internment without trial.
Findings of UK government's Saville Inquiry took 12 years to complete and were published today, revealing that all killings by UK troops were unjustified; David Cameron tells UK parliament that he is "deeply sorry."
Bloody Sunday was a landmark event in Northern Irish history, and effectively marked the end of the non-violent struggle for civil rights in the region, as well as the suspension of the Northern Irish government by London.
Events of the day, as well as the failure to hold an effective inquiry into the killings, remained a source of tension for decades between unionists and nationalists in Northern Ireland.
New calls for prosecution of paratroopers involved in killings, but critics say move will reopen old wounds and threaten Northern Ireland's reconciliation process.
Analysts available for comment:
PAUL DIXON is a Reader in Politics and International Studies in the Faculty of Arts and Social Sciences. He has just published the second edition of Northern Ireland: The Poltiics of War and Peace and has carried out extensive research on the Northern Ireland conflict. View full bio…
paul.dixon@theglobalexperts.org
Location: Kingston, UK




PETER SHIRLOW is a Senior Lecturer at Queen's University Belfast. He is an expert on political violence in Northern Ireland.  He has written and edited 5 books on conflict in Northern Ireland and written over 50 additional journal articles. He has also undertaken an extensive range of interviews with the World Service, Radio 4, BBC 1, BBC2 and ITN. He has also been interviewed for papers including Le Monde, The Washington Post and The Daily Telegraph. View full bio…
peter.shirlow@theglobalexperts.org
Location: Belfast, Northern Ireland




BILL ROLSTON is Professor of Sociology at the University of Ulster in Northern Ireland. He has researched, written and lectured on Northern Ireland society, politics and culture over the last three decades, beginning with his doctorate from Queen's University on community development and political conflict. He is also a researcher with the Transitional Justice Institute at the University of Ulster and has published on issues of transitional justice in relation to Northern Ireland, in particular: truth recovery, memory and storytelling, the demobilization of ex-combatants, and the role of public inquiries. View full bio…
bill.rolston@theglobalexperts.org
Location: Ulster, Northern Ireland




FINONNUALA NI AOLAIN is Dorsey and Whitney Chair in Law at the University of Minnesota Law School and a Professor of Law at the University of Ulster's  Transitional Justice Institute in Belfast, Northern Ireland. She was appointed by the Irish Minister of Justice to the Irish Human Rights Commission in 2000, and served until 2005. She remains an elected member of the Executive Committee for the Belfast based Committee on the Administration of Justice, and is also a member of the Irish Council for Civil Liberties. View full bio…
finonnuala.niaolain@theglobalexperts.org
Location: Minneapolis, USA



Latest articles from Editor