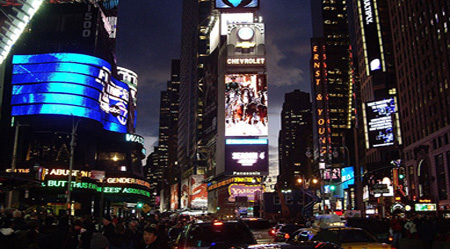 NEW YORK, USA: Police have arrested a US citizen of Pakistani origins in connection with the failed car bomb attack in New York's Times Square.
Suspect in custody is Faisal Shahzad, a 30 year-old naturalized US citizen originally from Pakistan; Shahzad was arrested at John F. Kennedy airport while trying to board a flight to Dubai.
FBI agents search suspect's home in Bridgeport, Connecticut, as suspect prepares to appear in federal court.
US officials say failed attack appears to have been masterminded by several people with international ties; Pakistani authorities pledge to assist US in inquiries.
Pakistani Taliban has said it launched attack as retaliation for US interference in Muslim countries, but some analysts and officials skeptical.
Recent episode of South Park cartoon series featuring Prophet Muhammad also being considered as possible motive for attack; bomb was parked near headquarters of Viacom, owner of Comedy Central TV network.
Analysts available for comment:
WILL HARTLEY is the editor of Janes Terrorism and Insurgency Centre (JTIC), based in Washington, D.C. He leads a team responsible for collecting and analysing terrorism and insurgency related open source intelligence, producing country briefings, case study and major terrorist incident reports.
will.hartley@theglobalexperts.org
Location: Washington, D.C., USA




SAMINA AHMED is South Asia Project Director for International Crisis Group, based in Islamabad, Pakistan. She is a specialist on South Asian affairs including politics, ethnic and religious conflict, and nuclear proliferation issues. She frequently briefs representatives of foreign ministries, international organizations and members of the media.
sahmed@crisisgroup.org
Location: Islamabad, Pakistan




RICHARD BARRETT is an expert on Al Qaeda. He is based in New York City. Since March 2004 he has been the Coordinator of the United Nations' Analytical Support and Sanctions Implementation Monitoring Team, also known as the Al Qaeda-Taliban Monitoring Team, appointed by the UN Secretary-General at the request of the Security Council. See full bio…
richard.barrett@theglobalexperts.org
Location: New York, USA




DAISY KHAN is executive director of the American Society for Muslim Advancement (ASMA), a non-profit religious and educational organization dedicated to building bridges between the American public and American Muslims. Ms. Khan frequently speaks to the media, and has been featured in PBS's documentary Muhammad: Legacy of a Prophet, BBC World, CNN's Paula Zahn Show, National Geographic's documentary Inside Mecca, and a Hallmark Channel program titled Listening to Islam. See full bio…
daisy.khan@theglobalexperts.org
Location: New York City
Latest articles from Editor