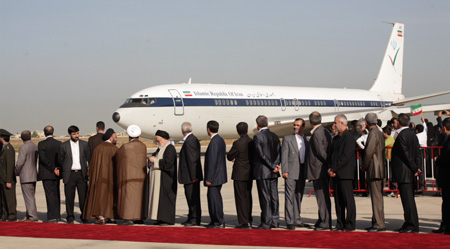 BEIRUT, LEBANON – Iranian President Mahmoud Ahmadinejad has arrived in Beirut on a controversial state visit to Lebanon.
Tens of thousands line the streets to welcome Ahmadinejad; Iranian president is extremely popular with Lebanon's Shia population.
But Lebanese Prime Minister Saad Hariri, Sunni Muslim and Christian political leaders oppose visit because of Iran's support for Hezbollah; street protests and burning of Iranian flag expected.
Tensions with Hezbollah are running high over an investigation into the 2005 assasination of former prime minister Rafiq al-Hariri; tribunal may indict Hezbollah for his murder.
US, Israel and Syria opposed Ahmadinejad visit amidst fears of fresh tensions along Lebanese-Israel border; some reports suggest Ahmadinejad plans to throw stones towards Israel across the Fatima border crossing in southern Lebanon.
Analysts available for comment:
MEIR JAVEDANFAR is Director of the Middle East Economic and Political Analysis Company, which carries out analysis of 16 Middle Eastern countries from its offices in Tel Aviv, Israel. He is co-author of The Nuclear Sphinx of Tehran: Mahmoud Ahmadinejad and The State of Iran, an investigation into the state of the Iranian nuclear program. See full bio…
m.javedanfar@theglobalexperts.org
Location: Tel Aviv, Israel
Languages: English, Farsi, Spanish, Portuguese




ALON BEN-MEIR is an expert on Middle East politics and affairs, specializing in peace negotiations between Israel and the Arab states. For the past 25 years, he has been directly involved in negotiations and operated as a liaison between top Arab and Israeli officials. Currently a senior fellow at New York University's School of Global Affairs, he frequently comments on Israeli-Lebanese relations. See full bio…
alon.ben-meir@theglobalexperts.org
Location: New York, USA
Languages: English, Arabic, Hebrew




METSA RAHIMI is a security intelligence analyst at Janusian Security Risk Management, part of the Risk Advisory Group. She is a specialist on political and security issues in the Middle East and North Africa, with a particular focus on Iran. She has commented for the BBC, CNN, Reuters and other international media outlets.
metsa.rahimi@theglobalexperts.org
Location: London, UK
Languages: English, French, Spanish, Farsi




RAGHIDA DERGHAM is a Lebanese-American commentator and senior diplomatic correspondent for Al Hayat, the leading Arabic daily. She is also a political analyst for NBC. See full bio…
raghida.dergham@theglobalexperts.org
Location: New York, USA
Languages: English, Arabic




ABDALLAH SCHLEIFER is a veteran journalist who has covered the Middle East for American and Arab media for more than thirty years. From 2006 to 2007, he was Washington Bureau Chief for the Al Arabiya TV network, and has previously worked for NBC, The New York Times, and The Jerusalem Star. He currently serves as Professor Emeritus at the American University in Cairo. See full bio…
abdallah.schleifer@theglobalexperts.org
Location: Cairo, Egypt
Languages: English, Arabic
Latest articles from Editor