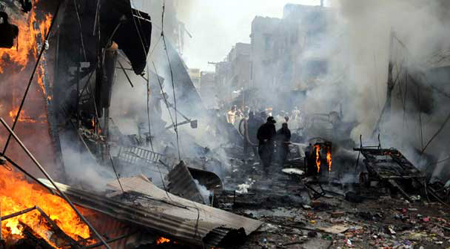 QUETTA, PAKISTAN – Over 40 people have died in a suicide attack at a Shia rally in Quetta, south-western Pakistan.
Bomber targeted rally for al-Quds Day, an international event staged annually by Shia Muslims to show solidarity with Palestinians.
Attack followed similar atrocity in Lahore on Wednesday, in which over 30 people were killed in the bombing of a Shia procession.
Targeting of Shias appears to be part of Pakistani Taliban strategy to foment general sectarian unrest throughout the country.
Shia Muslims make up a fifth of Pakistan's population of 160 million; more than 4000 people have died in clashes between Pakistani Shias and Sunnis during the last decade.
Analysts available for comment:
SAMINA AHMED is South Asia Project Director for International Crisis Group. She leads a team of analysts focusing on examination of political, security and stability issues throughout South Asia, including problems of authoritarianism; Islamic extremism, domestic and regional terrorism; educational, security sector reform; and the US and NATO interventions.
samina.ahmed@theglobalexperts.org
Location: Islamabad, Pakistan




KENNETH STRINGER is director of Khyber House, a research center on Afghanistan and Pakistan for Booz Allen Hamilton. He took up this post in 2004, after 20 years service as a CIA operative. During his career with the CIA, Dr. Stringer served in a variety of analytic and managerial positions in the Directorate of Intelligence, including assignments in South Asia and Europe. In 2001, Dr. Stringer was selected to lead the South Asia Issue Group in the Office of Near Eastern and South Asian Analysis, a group of analysts providing critical analysis to the President and other senior US leaders.
kenneth.stringer@theglobalexperts.org
Location: McLean, VA, USA




ARABINDA ACHARYA is research fellow and manager of strategic projects at the International Centre for Political Violence and Terrorism Research at Nanyang Technological University, Singapore. He is an expert on terrorism and conflict throughout the South Asia region.
arabinda.acharya@theglobalexperts.org
Location: Singapore




CATHARIN DALPINO is Professor of Southeast Asian Studies at the Edmund A. Walsh School of Foreign Service and former US Deputy Assistant Secretary of State and a former Fellow at the Brookings Institution. She is an expert on Southeast Asian security, regional relations and domestic politics. See full bio…
catharin.dalpino@theglobalexperts.org
Location: Washington, DC, USA




WILL HARTLEY is the editor of Janes Terrorism and Insurgency Centre (JTIC), based in Washington, D.C. He leads a team responsible for collecting and analysing terrorism and insurgency related open source intelligence, producing country briefings, case study and major terrorist incident reports.
will.hartley@theglobalexperts.org
Location: Washington, D.C., USA
Latest articles from Editor