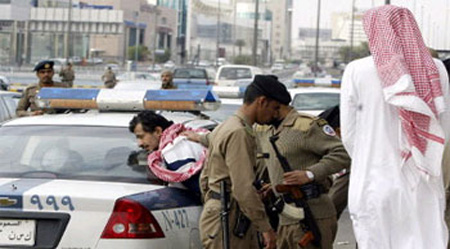 RIYADH, SAUDI ARABIA – Saudi Arabia has announced the arrests of 124 Saudis and 25 foreigners alleged to have been planning terrorist attacks against the state.
Interior Ministry claims to have broken 19 Al Qaeda cells over the last eight months, foiling around 10 different planned attacks on government, military and media targets.
Cells had links with Yemen, Somalia and Afghanistan, and included African and South Asian nationals.
Announcement shows intensity of Saudi Arabia counter-terror operations, and continued threat of Al Qaeda within the kingdom.
Analysts available for comment:
RICHARD BARRETT is an expert on Al Qaeda. He is based in New York City. Since March 2004 he has been the Coordinator of the United Nations Analytical Support and Sanctions Implementation Monitoring Team, also known as the Al Qaeda-Taliban Monitoring Team, appointed by the UN Secretary-General at the request of the Security Council. See full bio…
richard.barrett@globalexpertfinder.org
Location: New York, USA
Languages: English, French




METSA RAHIMI is a security intelligence analyst at Janusian Security Risk Management, part of the Risk Advisory Group. She is a specialist on political and security issues in the Middle East and North Africa. She has commented for the BBC, CNN, Reuters and other international media outlets.
metsa.rahimi@globalexpertfinder.org
Location: London, UK
Languages: English, French, Spanish, Farsi




ROBERT BOWKER is former Australian ambassador to Egypt (2005-8) and Jordan (1989-92). He was also previously stationed in Saudi Arabia and Syria. He currently serves as Adjunct Professor in the Centre for Arab and Islamic Studies at Australian National University, and is considered a leading expert on social and political issues throughout the region.
bob.bowker@globalexpertfinder.org
Location: Canberra, Australia
Languages: English, Arabic




GILLES KEPEL is Professor and Chair, Middle East and Mediterranean Studies, at the Institut d'Etudes Politiques de Paris (Sciences Po). He is a contributor to the Financial Times, Le Monde, La Repubblica, El Pais, Al Hayat, and a number of Arabic language and international newspapers. Some of his recent publications include: Beyond Terror and Martyrdom: The War for Muslim Minds, and Jihad: the Trail of Political Islam. See full bio…
gilles.kepel@globalexpertfinder.org
Location: Paris, France
Languages: English, French



Latest articles from Editor