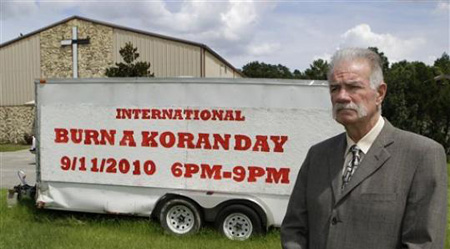 GAINESVILLE, FLORIDA – The US church which planned to burn copies of the Quran on the anniversary of the 9/11 attacks has called off the event.
Pastor Terry Jones of the Dove Outreach Center has cancelled the event, claiming that he did so in exchange for an agreement by Imam Feisal Abdul Rauf, the leader of the so-called 'Ground Zero mosque', to move the location of the proposed Islamic community center.
Center organizers have confirmed that no such agreement exists, and the facility will be built as planned.
Proposed Quran-burning event attracted worldwide condemnation, and was denounced by US President Barack Obama, the NATO Secretary-General and INTERPOL, as a potential incitement to terrorist attack and civil unrest around the world.
Analysts available for comment:
DALIA MOGAHED Dalia Mogahed is Senior Analyst and Executive Director of the Gallup Center for Muslim Studies, and leads the analysis of Gallup's unprecedented survey representing the views and opinions of more than 1 billion Muslims worldwide, including Muslims in the West. See full bio…
dalia.mogahed@theglobalexperts.org
Location: Washington DC, USA




REZA ASLAN is a Middle East analyst for CBS News, and a fellow at the University of Southern California Center on Public Diplomacy. He is an internationally acclaimed writer and scholar of religions, and holds degrees in religion from Santa Clara University, Harvard University, and the University of California, Santa Barbara, as well as a Master of Fine Arts from the University of Iowa, where he was named the Truman Capote Fellow in Fiction. See full bio…
reza.aslan@theglobalexperts.org
Location: Santa Monica, California, USA




MONA ELTAHAWY is an award-winning journalist and commentator on Muslim issues, and an international lecturer. Her opinion pieces have appeared frequently in the International Herald Tribune, The Washington Post and the pan-Arab Asharq al-Awsat newspaper and she has also published op-eds in The New York Times, the Christian Science Monitor, Egypt's al-Dostour and Lebanon's Daily Star. See full bio…
mona.eltahawy@theglobalexperts.org
Location: New York, USA




WILLIAM VENDLEY is Secretary General of Religions for Peace, an organization which supports religious communities in more than 70 countries around the world in mitigating and mediating conflicts. He is also a member of President Barack Obama's Interreligious Dialogue and Cooperation Taskforce. See full bio…
william.vendley@theglobalexperts.org
Location: New York, USA




EBHRAHIM MOOSA is Associate Professor of Islamic Studies and Associate Director of the Islamic Studies Center at Duke University, North Carolina. He comments extensively on Muslim political thought, human rights and theological issues. See full bio…
ebrahim.moosa@theglobalexperts.org
Location: Durham, NC, USA




RABBI DAVID ROSEN is chairman of the International Jewish Committee for Interreligious Consultations (IJCIC), the organization which represents world Jewry in its relations with other world religions. He is also director of the American Jewish Committee's Department for Interreligious Affairs. See full bio…
david.rosen@theglobalexperts.org
Location: Jerusalem
Latest articles from Editor