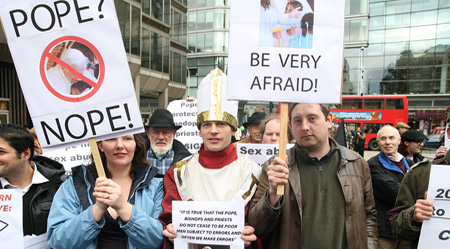 LONDON, UK – Pope Benedict XVI begins a controversial four-day state visit to the United Kingdom tomorrow.
Ahead of visit, severe criticism of the Pope has aired in the media; more than 50 public figures have signed a letter criticizing the pontiff in The Guardian newspaper, and anti-Pope commercials have been placed on some London buses.
Protests are planned by secularists, gay rights and women's activists along Pope's tour, possibly deterring Catholic worshippers; lower than expected crowds reported to be attending Pope's main event.
Cardinal Walter Kaspar, a senior Papal advisor, has dropped out of the trip after being quoted saying that arriving in Heathrow airport was like landing in a "Third World country"; he also attacked British Airways for discriminating against employees who wore the crucifix.
Tensions also likely to be in spotlight between Anglican and Catholic Churches.
There are 5.3 million Catholics in the UK, just under 9% of the population.
Analysts available for comment:
REV. EAMONN CONWAY is President of the European Society for Catholic Theology. He is a Roman Catholic priest and Head of Theology at Mary Immaculate College, University of Limerick. He regularly comments for the print and broadcast media.
eamonn.conway@theglobalexperts.org
Location: Limerick, Ireland
Languages: English, German




REV. THOMAS REESE is a senior fellow at the Woodstock Theological Center at Georgetown University where he focuses on religion and public policy. From 1998 to 2005, he was editor of America, the national Catholic weekly magazine. He is author of a trilogy of books examining the internal politics of the Catholic Church, including Inside the Vatican: The Politics and Organization of the Catholic Church. He is a regular contributor to The Washington Post On Faith blog.
thomas.reese@theglobalexperts.org
Location: Washington DC, USA
Languages: English




JON TONGE is Head of the Department of Politics at Liverpool University, and President of the Political Studies Association of the United Kingdom. He has published extensively on British and Irish politics.
jon.tonge@theglobalexperts.org
Location: Liverpool, UK
Languages: English




WILLIAM VENDLEY is Secretary General of Religions for Peace, an organization which supports religious communities in more than 70 countries around the world in mitigating and mediating conflicts. He is also a member of President Barack Obama's Interreligious Dialogue and Cooperation Taskforce.
william.vendley@theglobalexperts.org
Location: New York , USA
Languages: English
Latest articles from Editor