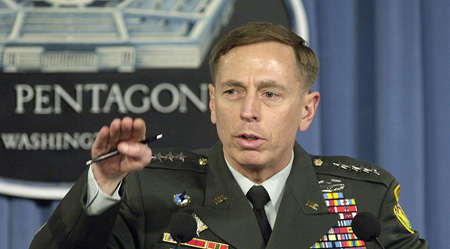 KABUL, AFGHANISTAN – General David Petraeus has said that plans by an American church to burn copies of the Quran could endanger the lives of US troops.
A US church in Florida plans to burn copies of the Quran in protest at the September 11 attacks.
General Petraeus, the top US commander in Afghanistan, says Quran burning will be exploited by Taliban and could endanger overall war effort.
500 protestors burned effigy of Florida pastor Terry Jones in Kabul today.
NATO and US Embassy in Kabul condemn Quran burning.
Analysts available for comment:
SAMINA AHMED is South Asia Project Director for International Crisis Group. She leads a team of analysts focusing on examination of political, security and stability issues throughout South Asia, including problems of authoritarianism; Islamic extremism, domestic and regional terrorism; educational, security sector reform; and the US and NATO interventions.
samina.ahmed@theglobalexperts.org
Location: Islamabad, Pakistan




KENNETH STRINGER is director of Khyber House, a research center on Afghanistan and Pakistan for Booz Allen Hamilton. He took up this post in 2004, after 20 years service as a CIA operative. During his career with the CIA, he served in a variety of analytic and managerial positions in the Directorate of Intelligence, including assignments in South Asia and Europe. In 2001, Dr. Stringer was selected to lead the South Asia Issue Group in the Office of Near Eastern and South Asian Analysis, a group of analysts providing critical analysis to the President.
kenneth.stringer@theglobalexperts.org
Location: McLean, VA, USA




DALIA MOGAHED Dalia Mogahed is Senior Analyst and Executive Director of the Gallup Center for Muslim Studies, and leads the analysis of Gallup's unprecedented survey representing the views and opinions of more than 1 billion Muslims worldwide, including Muslims in the West. See full bio…
dalia.mogahed@theglobalexperts.org
Location: Washington DC, USA




WILLIAM VENDLEY is Secretary General of Religions for Peace, an organization which supports religious communities in more than 70 countries around the world in mitigating and mediating conflicts. He is also a member of President Barack Obama's Interreligious Dialogue and Cooperation Taskforce. See full bio…
william.vendley@theglobalexperts.org
Location: New York, USA




EBHRAHIM MOOSA is Associate Professor of Islamic Studies and Associate Director of the Islamic Studies Center at Duke University, North Carolina. He comments extensively on Muslim political thought, human rights and theological issues. See full bio…
ebrahim.moosa@theglobalexperts.org
Location: Durham, NC, USA




MONA ELTAHAWY is an award-winning journalist and commentator on Muslim issues, and an international lecturer. Her opinion pieces have appeared frequently in the International Herald Tribune, The Washington Post and the pan-Arab Asharq al-Awsat newspaper and she has also published op-eds in The New York Times, the Christian Science Monitor, Egypt's al-Dostour and Lebanon's Daily Star. See full bio…
mona.eltahawy@theglobalexperts.org
Location: New York, USA




RABBI DAVID ROSEN is chairman of the International Jewish Committee for Interreligious Consultations (IJCIC), the organization which represents world Jewry in its relations with other world religions. He is also director of the American Jewish Committee's Department for Interreligious Affairs. See full bio…
david.rosen@theglobalexperts.org
Location: Jerusalem
Latest articles from Editor