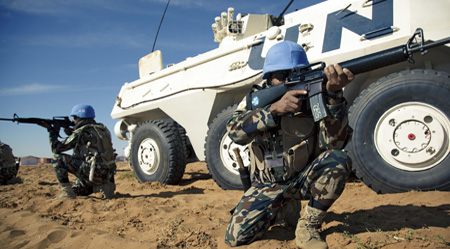 DARFUR, SUDAN – Three peacekeepers from Rwanda have been killed during an attack on UNAMID, the joint UN-African Union peacekeeping force in Darfur.
Attack took place in Jabel Mara, a mountainous area in Western Darfur where peacekeepers were overseeing construction of a new base.
20 unidentified attackers in camouflage gear attacked troops.
Latest casualty brings total UNAMID deaths to 27, since force began operating in Darfur in 2008.
UN Secretary-General Ban Ki-moon demands Sudan apprehend attackers.
Attack draws attention to deteriorating security situation in Jabel Mara, which has seen an upsurge in fighting between rebels and government forces since earlier this year.
Analysts available for comment:
FABIENNE HARA is Vice-President of International Crisis Group, and former Acting Chief of the Political Affairs Division for the UN Mission in Sudan. She has over fifteen years of experience in African conflict management and resolution issues, particularly focusing on Sudan and the Horn of Africa.
EMAIL: fabienne.hara@theglobalexperts.org
Location: New York, USA




IMAM FEISAL ABDUL RAUF is a prominent religious scholar and advocate for interreligious dialogue. He is the author of three books, including What's Right with Islam: a New Vision for Muslims and the West (one of the Christian Science Monitor's Top Five Books of 2004). Imam Feisal is frequently interviewed by CNN, the BBC, New York Times , Washington Post and other media outlets.
EMAIL: feisal.abdul.rauf@theglobalexperts.org
Location: New York, USA





VINCENT HUGEUX has been a reporter at the international desk for L'Express since 1990. He is a specialist in Africa, the Middle-East and the Arab world. He won the Bayeux prize for his article, Ouganda, l'enfance massacre, in 2005. He was the President of the Society of Journalists of L'Express from 1995 to 2007.
EMAIL: vhugeux@lexpress.fr
Location: Paris, France




ANS ZWERVER is the Resident Senior Director of the Khartoum office of the National Democratic Institute.
EMAIL: azwerver@ndi.org
TEL: +249.907.456.150
Location: Khartoum, Sudan




DEBORAH HAKES is assistant director of public information for the Carter Center.
EMAIL: dhakes@emory.edu
TEL: +249.90.90.10.573
Location: Atlanta, USA





MARC ANTOINE PEROUSE DE MONTCLOS is a political analyst and a researcher at the Institut de Recherche pour le Developpement, Paris. He has lived in Nigeria, South Africa and Kenya, and works on armed conflicts in Sub-Saharan Africa, and issues related to forced migration.
marc.perouse@theglobalexperts.org
Location: Paris, France



Latest articles from Editor