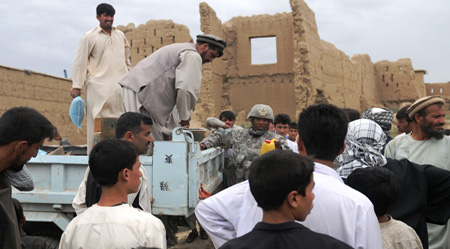 PAKISTAN – The international community is shoring up its support for Pakistan as the flood-devastated country moves into the recovery phase.
Analysts say Pakistani extremists are attempting to exploit situation and destabilize the government, carrying out attacks on Shia Muslims in Lahore and Quetta last week mark, and using militant-linked charities to lead recovery efforts and build support in flood-devastated regions.
Pakistani officials estimate damage from floods could be as high as $50 billion; US government calls on other countries to provide additional funds.
World Bank and Asian Development Bank carry out damage and needs assessments on the ground.
UN Secretary-General to host meeting on 19 September to lay framework for recovery efforts.
Analysts available for comment:
SAMINA AHMED is South Asia Project Director for International Crisis Group. She leads a team of analysts focusing on examination of political, security and stability issues throughout South Asia, including problems of authoritarianism; Islamic extremism, domestic and regional terrorism; educational, security sector reform; and the US and NATO interventions.
samina.ahmed@theglobalexperts.org
Location: Islamabad, Pakistan




KENNETH STRINGER is director of Khyber House, a research center on Afghanistan and Pakistan for Booz Allen Hamilton. He took up this post in 2004, after 20 years service as a CIA operative. During his career with the CIA, Dr. Stringer served in a variety of analytic and managerial positions in the Directorate of Intelligence, including assignments in South Asia and Europe. In 2001, Dr. Stringer was selected to lead the South Asia Issue Group in the Office of Near Eastern and South Asian Analysis, a group of analysts providing critical analysis to the President and other senior US leaders.
kenneth.stringer@theglobalexperts.org
Location: McLean, VA, USA




PETER LITTLE is director of the Development Studies Program at Emory University. He is an expert on international development. His topical areas of specialization include food insecurity and famine, poverty, rural development, and conflict resolution. See full bio…
peter.little@theglobalexperts.org
Location: Atlanta, USA




CATHARIN DALPINO is Professor of Southeast Asian Studies at the Edmund A. Walsh School of Foreign Service and former US Deputy Assistant Secretary of State and a former Fellow at the Brookings Institution. She is an expert on Southeast Asian security, regional relations and domestic politics. See full bio…
catharin.dalpino@theglobalexperts.org
Location: Washington, DC, USA




JORDAN RYAN is director of the Bureau for Crisis Prevention and Recovery at the UN Development Programme (UNDP). He is a career professional with the United Nations and has a wealth of development experience, particularly in post-crisis settings. He previously served in Liberia, Vietnam and China. See full bio…
jordan.ryan@theglobalexperts.org
Location: New York, USA
Latest articles from Editor