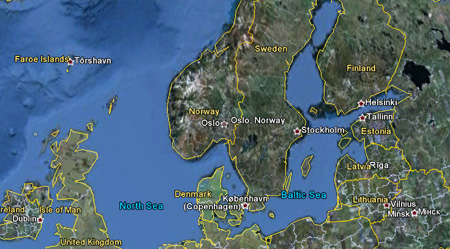 OSLO, NORWAY- Police have arrested three men suspected of preparing an Al Qaeda bombing operation against targets in the US and UK.
2 men were arrested on Thursday in Oslo, and one in Germany.
Suspects are a Norwegian citizen of Chinese origin who belonged to the Muslim Uighur ethnic group, a Kurdish Iraqi citizen, and an Uzbek citizen; all three were living in Norway legally.
Arrests take place one day after police in the UK arrested a man in connection with last year's failed New York subway attacks.
Operation to arrest suspects was accelerated after unknown international media outlet was allegedly preparing to disclose details of the investigation into the suspects.
Norway contributes troops to the US-led coalition in Afghanistan, and has been identified by Ayman al-Zawahri, deputy of Bin Laden, as a potential target for attack.
Analysts available for comment:
KJELL MAGNE BONDEVIK is the former prime minister of Norway. He served from 1997-2000, and 2001-2005, and was the longest-serving non-Socialist prime minister in Norway since World War II. He is a former leader of the Christian Democratic Party, and was ordained as a priest in the Lutheran Church of Norway in 1979. He currently serves as founder and president of the Oslo Center for Peace and Human Rights.
kjell.bondevik@theglobalexperts.org
Location: Oslo, Norway




GUNNAR STALSETT is the former bishop of Oslo, in the Church of Norway. He served in this position from 1998-2005. From 1972-3 he served as Secretary of State for Church Affairs and Education in the Norwegian government. He is a former member of the Norwegian Nobel Committee.
oslo.biskop@kirken.no
Location: Oslo, Norway




RICHARD BARRETT is an expert on Al Qaeda. He is based in New York City. Since March 2004 he has been the Coordinator of the United Nations Analytical Support and Sanctions Implementation Monitoring Team, also known as the Al Qaeda-Taliban Monitoring Team, appointed by the UN Secretary-General at the request of the Security Council. See full bio…
richard.barrett@theglobalexperts.org
Location: New York, USA




IMAM ABDULLAH KHAN is Social Advisor for the Islamic Organization in Denmark. He previously served as a consultant with Norwegian Church Aid (NCA) to introduce studies of  human rights in Pakistani madrassas and Christian seminaries. He has been involved in development of a variety of counter-radicalization programs for Muslim youth.
abdullah.khan@theglobalexperts.org
Location: Copenhagen, Denmark




WILL HARTLEY is the editor of Janes Terrorism and Insurgency Centre (JTIC), based in Washington, D.C. He leads a team responsible for collecting and analysing terrorism and insurgency related open source intelligence, producing country briefings, case study and major terrorist incident reports.
will.hartley@theglobalexperts.org
Location: Washington, D.C., USA




GILLES KEPEL is Professor and Chair, Middle East and Mediterranean Studies, at the Institut d'Études Politiques de Paris (Sciences Po). He is a contributor to the Financial Times, Le Monde, La Repubblica, El Pais, Al Hayat, and a number of Arabic language and international newspapers. Some of his recent publications include: Beyond Terror and Martyrdom:The War for Muslim Minds, Jihad: the Trail of Political Islam and Bad Moon Rising : a Chronicle of the Middle East Today. See full bio…
gilles.kepel@theglobalexperts.org
Location: Paris, France
Latest articles from Editor