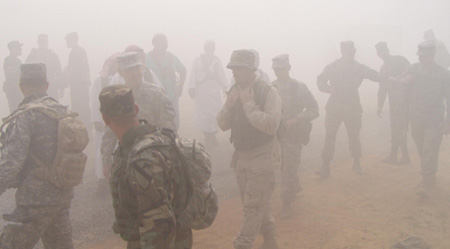 WASHINGTON DC – Wikileaks is preparing to publish 400,000 US military documents relating to the Iraq war.
The largest leak of classified documents in US military history is expected to take place early on Saturday.
The Pentagon has assembled a 120-member team to prepare for any fallout from the release of the documents.
Early reports suggest that one revelation contained in the documents is that US forces received secret orders not to investigate torture by Iraqi authorities.
Release of 70,000 Afghan war documents in July led to US warning that leaks could endanger the lives of US military forces and Afghan civilians, and damage intelligence sharing with other nations.
Analysts available for comment:
PATRICIA DEGENNARO is Senior Fellow at the World Policy Institute and a subject matter expert on Afghanistan and Iraq for the US Army's Training and Doctrine Command Center for Intelligence. She recently returned from Iraq where she studied first hand the military transition to civil authority. See full bio…
patricia.degennaro@theglobalexperts.org
Location: New York, USA
Languages: English, Albanian




PAUL SULLIVAN is a professor at National Defense University, the top US military education institution. He is an internationally recognized expert on military-security issues, and has published widely on US-Middle East relations and the wars in Afghanistan and Iraq. He is a former member of the Fusion Group on Public Diplomacy at the US State Department. See full bio…
paul.sullivan@theglobalexperts.org
Location: Arlington, Virginia, USA
Languages: English




ABDALLAH SCHLEIFER is a veteran journalist who has covered the Middle East for American and Arab media for more than thirty years. From 2006 to 2007, he was Washington Bureau Chief for the Al Arabiya TV network, and has previously worked for NBC, The New York Times, and The Jerusalem Star. He currently serves as Professor Emeritus at the American University in Cairo. See full bio…
abdallah.schleifer@theglobalexperts.org
Location: Cairo, Egypt
Languages: English, Arabic




MARK FOWLER is an Associate at Booz Allen Hamilton and a former senior CIA officer. He is a Middle East specialist and served numerous tours overseas and in Washington DC. He has particular expertise on Iran and Iraq, and speaks Farsi. Mr. Fowler currently leads Booz Allen Hamilton's 'Persia House,' a Center of Excellence on Iran and the Persian Gulf. See full bio…
mark.fowler@theglobalexperts.org
Location: Washington DC, USA
Languages: English, Farsi




MONA ELTAHAWY is an award-winning journalist and commentator on Muslim issues, and an international lecturer. Her opinion pieces have appeared frequently in the International Herald Tribune, The Washington Post and the pan-Arab Asharq al-Awsat newspaper and she has also published op-eds in The New York Times, Christian Science Monitor, Egypt's al-Dostour and Lebanon's Daily Star. See full bio…
mona.eltahawy@theglobalexperts.org
Location: New York, USA
Languages: English, Arabic




BENJAMIN ISAKHAN is a research associate at the Centre for Dialogue, at La Trobe University in Australia. He is a specialist on democratization in the Middle East, particularly focusing on Iraq. He is the author of the forthcoming Democracy in Iraq: History, Politics and Discourse (Ashgate, 2011), and co-editor of The Secret History of Democracy (Palgrave Macmillan, 2011).
benjamin.isakhan@theglobalexperts.org
Location: Melbourne, Australia
Languages: English
Latest articles from Editor