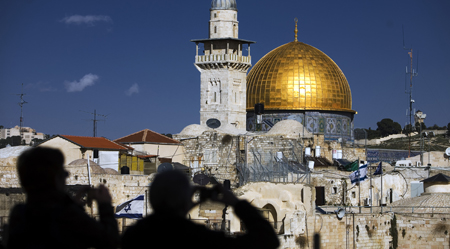 WASHINGTON DC – The first direct peace negotiations in two years between Israel and Palestine are expected to begin next month.
Reports suggest that negotiations will be convened by the US government in Washington DC on 2 September, lasting up to a year.
Statement from Middle East Quartet expected later today.
US President Barack Obama is expected to attend the talks.
Analysts pessimistic at prospects for resolution of decades-old conflict, pointing to lack of any consensus between two sides over key issues including borders of future Palestinian state and placement of Israeli settlements.
Analysts available for comment:
DANIEL LEVY is Director of the Middle East Task Force at the New America Foundation. He is the former special advisor and head of Jerusalem Affairs for Ehud Barak, and official Israeli negotiator at the Oslo  and Taba peace talks. See full bio…
CONTACT: daniel.levy@theglobalexperts.org
Location: Washington, D.C., USA




RAMZI KHOURY is a special advisor to Mahmoud Abbas, president of the Palestinian Authority. He is based in Ramallah, West Bank. Previously,  he has worked as a strategic communications consultant, journalist and columnist. He is also the CEO of Strategy Falcons LLC, an Arab strategic communications company based in Dubai, with offices throughout the region. See full bio…
CONTACT: ramzi.khoury@theglobalexperts.org
Location: Ramallah, Palestine




MEIR JAVEDANFAR is Director of the Middle East Economic and Political Analysis Company, which carries out analysis of 16 Middle Eastern countries from its offices in Tel Aviv, Israel. He speaks Farsi, English, Spanish and Portuguese fluently, and has commented in all of these languages for a wide range of international media organizations including CNN, FOX News, BBC, Sky News, ABC, Associated Press, Los Angeles Times, NPR, The New York Times and others. See full bio…
CONTACT: m.javedanfar@theglobalexperts.org
Location: Tel Aviv, Israel




ELAZAR BARKAN is Co-Director of the Center for the Study of Human Rights and Professor of International and Public Affairs, at Columbia University, New York. He is a frequent commentator on issues related to the Israel-Palestine conflict. See full bio…
CONTACT: elazar.barkan@theglobalexperts.org
Location: New York, USA




BARAH MIKAIL is a Research Fellow at the Institute for International and Strategic Relations (IRIS). He is a specialist on Middle East issues and is the author of American Policy in the Middle East.
barah.mikail@theglobalexperts.org
Location: Paris, France
ROBIN NIBLETT is the director of Chatham House (the Royal Institute of International Affairs) the UK's leading foreign policy thinktank. He is based in London. Chatham House was founded in 1920 and provides independent analysis of current developments in international affairs. He previously served as executive vice president of the Center for Strategic and Intelligence Studies, Washington D.C. See full bio…
robin.niblett@theglobalexperts.org
Location: London, UK
Latest articles from Editor