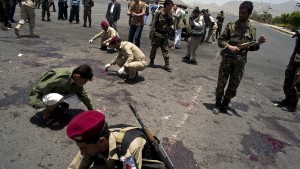 SANAA, YEMEN – More than 90 soldiers are dead and hundreds are injured after a suicide bombing attack in Yemen's capital Monday.
The attacker, in Yemeni military uniform, blew himself up during a parade rehearsal on the eve of Yemen's National Unity Day. Yemen's National Unity Day, May 22, celebrates the 1990 unification of north and south Yemen.
An al-Qaeda affiliate is claiming responsibility for the attack, according to ABC News.
This attack is the deadliest incident in Sanaa since the February presidential election, according to the BBC.
Analysts available for comment:
RICHARD BARRETT is an expert on al Qaeda. He is based in New York City. Since March 2004, he has been the Coordinator of the United Nations Analytical Support and Sanctions Implementation Monitoring Team, also known as the Al Qaeda-Taliban Monitoring Team, appointed by the UN Secretary-General at the request of the Security Council.
CONTACT:richard.barrett@globalexpertfinder.org
Location: New York, USA
Languages: English, French


ALEX VATANKA is the Middle East Senior Analyst for IHS Jane's, the only civilian organization to have an office in the Pentagon. Vatanka specializes on the geopolitics of the Middle East, and the security situation in Iran, Afghanistan and the Gulf Cooperation Council states. He is the managing editor of Jane's Islamic Affairs Analyst
CONTACT:alex.vatanka@globalexpertfinder.org
Location: North America
Languages: English


OLIVER MCTERNAN is the director and co-founder of Forward Thinking, a UK-based organization that works to prevent and resolve conflict at a national and global level and to promote understanding between cultures.
CONTACT: oliver.mcternan@theglobalexperts.org
Location: West Europe
Language: English


BERNARD HAYKEL, Ph.D. is a professor of Near Eastern Studies at Princeton University, specializing in the study of the politics and history of the Middle East, particularly Islamic political movements and law.
CONTACT:b.haykel@theglobalexperts.org
Location: North America
Languages: Arabic; English; French


ABDALLAH SCHLEIFER is a veteran journalist who has covered the Middle East for American and Arab media for more than thirty years. From 2006 to 2007, he was Washington Bureau Chief for the Al Arabiya TV network, and has previously worked for NBC, The New York Times, and The Jerusalem Star. He is Professor Emeritus at the American University in Cairo.
CONTACT: abdallah.schleifer@globalexpertfinder.org
Location: Middle East
Languages: English


OLIVER GUILLARD is the Asia Research Director for the Paris-based thinktank IRIS (Institut de Relations Internationales et Stratégiques). Guillard is also a partner in a consulting firm (Crisis Consulting www.crisis.fr) since 2002, and Director of information, in charge with country risk assessments and crisis management in Asia, for several of the largest French firms.
CONTACT:olivier.guillard@theglobalexperts.org
Location: West Europe
Languages: English; French


MARK FOWLER is an Associate at Booz Allen Hamilton and a former senior CIA officer. He is a Middle East specialist and served numerous tours overseas and in Washington DC. He currently leads Booz Allen Hamilton's 'Persia House,' a Center of Excellence on Iran and the Persian Gulf.
CONTACT:mark.fowler@globalexpertfinder.org
Location: North America
Languages: English; Farsi


GILLES KEPEL is Professor and Chair, Middle East and Mediterranean Studies, at the Institut d'Etudes Politiques de Paris (Sciences Po). He is a contributor to the Financial Times, Le Monde, La Repubblica, El Pais, Al Hayat, and a number of Arabic language and international newspapers. Some of his recent publications include: Beyond Terror and Martyrdom: The War for Muslim Minds, and Jihad: the Trail of Political Islam.
CONTACT: gilles.kepel@globalexpertfinder.org
Location: Paris, France
Languages: English, French

Latest articles from Editor