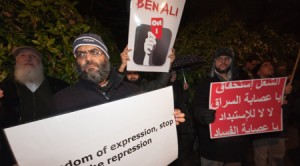 January 14, 2011
Tunis, Tunisia — Tunisian President Zine El Abidine Ben Ali on Friday dismissed his government and called early elections in six months' time, as weeks of unrest mounted.
Around 8,000 people are demonstrating outside the interior ministry in Tunis demanding the resignation of Tunisian President Zine al-Abidine Ben Ali on Friday despite his announcement yesterday that he will not stand for re-election in 2014.
Demonstrations also continued on Friday in Sidi Bouzid, the central town where protests against unemployment and poverty began a month ago. Elsewhere in the country, various violent demonstrations took place.
Experts say that the government may have organized some peaceful counter-protests in support of the president in Tunis and a number of other locations in the country.
This is the worst unrest of his two decades in power. It follows a month of violent protests against unemployment, political repression and corruption.
Analysts available for comment:
TUOMO MELASUO is Professor of Peace and Conflict Studies as well as Research Director of TAPRI, Tampere Peace Research Institute, University of Tampere, Finland. He has studied contemporary political history as well as political science and international relations in Finland and in France. Professor Melasuo is specialized on North Africa.
Location: West Europe
Languages: English, Finnish, French
CONTACT: tuomo.melasuo@theglobalexperts.org
JOOST HILTERMANN is Deputy Director of the Middle East and North Africa Program at International Crisis Group. He is an expert on Iraq, including issues relating to the political transition, constitutional process and the situation of the Kurds. From 1994-2002, he served as Executive Director of the Arms Control Division at Human Rights Watch. He was the primary researcher for HRW on the 1987-88 Al-Anfal campaign by the Saddam Hussein regime, a campaign that sought to annihilate the Kurdish population in northern Iraq.
Location: Washington, DC, USA
Languages: Arabic, Dutch, English
CONTACT: joost.hiltermann@theglobalexperts.org
HENRI WILKINSON is Associate Director at Janusian Security Risk Management plc. Janusian is the security and political risk subsidiary of Risk Advisory: a transnational intelligence, investigations and security group with offices in London, Moscow, Dubai, and Al-Khobar in Saudi Arabia. He is a specialist on Middle Eastern affairs, strategic studies, terrorism and asymmetric warfare.
Location: West Europe
Language: English
CONTACT: henry.wilkinson@theglobalexperts.org
GILLES KEPEL is Professor and Chair, Middle East and Mediterranean Studies, at the Institut d'Etudes Politiques de Paris (Sciences Po). He is a contributor to the Financial Times, Le Monde, La Repubblica, El Pais, Al Hayat, and a number of Arabic language and international newspapers. Some of his recent publications include: Beyond Terror and Martyrdom: The War for Muslim Minds, and Jihad: the Trail of Political Islam.
Location: Paris, France
Languages: English, French
CONTACT : gilles.kepel@theglobalexperts.org

Latest articles from Stephanie