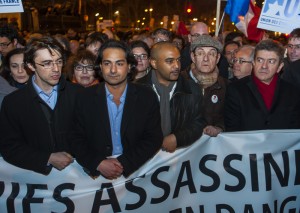 TOULOUSE, FRANCE- Police are still on the lookout for the motorcycle gunman who killed 3 Jewish children and a rabbi at a school in southern France yesterday. President Nicolas Sarkozy put the region under the highest terrorism alert level. The incident is being considered a racially motivated crime. (Sources: AP/Reuters)
Analysts available for comment:
Jean Yves-Camus is a political analyst and research fellow at IRIS. He frequently comments on European perceptions of Israel. He is also a member of the European Consortium on Political Research and of the Task Force on Antisemitism at the European Jewish Congress.
CONTACT: jy.camus@theglobalexperts.org
Location: Paris, France
Languages: English, French
Caroline Fourest is a French writer and columnist. She is a commentator on fundamentalism in the Abrahamic religions (Judaism, Christianity, and Islam), as well as political extremism and the far-right. She is the author of Brother Tariq, a critical look at the career of Tariq Ramadan, and her most recent work, The Last Utopia.
CONTACT: caroline.fourest@theglobalexperts.org
Location: Paris, France
Languages: French, English
Rabbi David Rosen is chairman of the International Jewish Committee for Interreligious Consultations (IJCIC), the organization which represents world Jewry in its relations with other world religions. He is a specialist in the field of interreligious affairs with particular expertise on the relations of the Jewish community and Israel with other religious communities.
CONTACT: david.rosen@theglobalexperts.org
Location: Jerusalem, Israel
Languages: English, Hebrew
Patrick Weil is a senior research fellow at the French National Research Center in the University of Paris. He has worked extensively with the French government on issues of secularism and immigration policy.
CONTACT:Â patrick.weil@theglobalexperts.org
Location: Paris, France
Languages: English, French
Alejandro Baer is Associate Professor at the University of Bayreuth, Germany, where he teaches in the Department of Sociology, Culture and Religion. He is an expert on the Holocaust, modern-day anti-Semitism in Spain and Europe, and global attitudes towards Israel.
CONTACT: alejandro.baer@theglobalexperts.org
Location: Bayreuth, Germany
Languages: English, German, Spanish
Megan Martin is the operations manager at Abraham's Vision, a conflict transformation organization, which improves Jewish, Muslim, Palestinian and Israeli relations by bringing together high school and college students for conflict transformation training.
CONTACT: megan.martin@theglobalexperts.org
Locations: Washington DC, U.S.A.
Languages: English, French
Esther Bendahan Cohen is writer and cultural manager at Casa Sefarad-Israel, an organization that promotes greater understanding of Jewish culture in Spain, Europe and around the world.
CONTACT: esther.cohen@theglobalexperts.org
Location: Madrid, Spain
Languages: English, French, Spanish
Bertrand Badie is a French political scientist and international relations specialist at the Institut d'Etudes Politiques de Paris. He has written extensively about international relations theory, focusing on globalization and the structural effects it exerts on the international system, states and societies.
CONTACT: bertrand.badie@theglobalexperts.org
Location: Paris, France
Languages: English, French
Photo: Paris, France, March 19, 2012 -Community leaders including French presidential candidate Jean-Luc Mélanchon, right, and Dominique Sopo, centre, President SOS Racism, take to the streets of Paris. A silent march was held in support of the Jewish victims of the shooting attack in Toulouse.
Latest articles from Editor