MEDIA ALERT: Pakistani Christians Protest Rash of Violence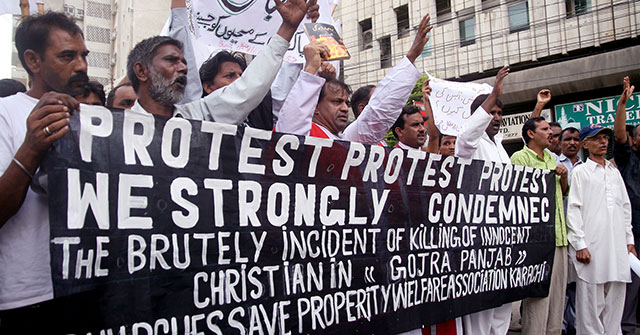 Pakistani Christians took to the streets of Lahore on Sunday to protest a rash of violence against their community over the weekend. (Sources: New York Times, Al Jazeera, Huffington Post)
Analysts available for comment:
Ambassador Akbar Ahmed is the Ibn Khaldun Chair of Islamic Studies at American University in Washington, D.C., and the former High Commissioner of Pakistan to Great Britain.
CONTACT: akbar.ahmed@theglobalexperts.org
Location: North America
Languages: English; French; Pashto; Urdu
Christophe Jaffrelot, Ph.D. is a French political scientist and expert on South Asia, particularly India and Pakistan. He is the former director of CERI at SciencesPo in Paris, France's foremost center for research on international politics, and served in this role from 2002-8.
CONTACT: christophe.jaffrelot@theglobalexperts.org
Location: West Europe
Languages: English; French
Samina Ahmed, Ph.D. is South Director of the International Crisis Group. She oversees the group's work in Pakistan, Afghanistan, India and Nepal. Her team focuses on political, security and stability issues in South Asia, like Islamic extremism, domestic and regional terrorism, domestic insurgencies and the risk of inter-state conflict.
CONTACT: samina.ahmed@theglobalexperts.org
Location: Islamabad, Pakistan
Languages: English, Urdu
Hassan Abbas, Ph.D. is a former Pakistani government official who served in the administrations of Prime Minister Benazir Bhutto (1995-6) and President Pervez Musharraf (1999-2000). He is currently the Quaid-i-Azam chair and professor at Columbia University's South Asia Institute.
CONTACT: hassan.abbas@theglobalexperts.org
Location: North America
Languages: English; Panjabi; Urdu
Naveed Ahmad is a journalist at Gulf News in Islamabad, Pakistan. He served as a Geo News Correspondent for many years and worked with multiple media agencies around the world. Ahmad specializes in investigative reporting on security affairs, civil-military relations, diplomacy, energy and religion.
CONTACT: naveed.ahmad@theglobalexperts.org
Language: English
Rene Guitton is an author of books, theater and television scripts. Along with his day job, this relentless traveler with a degree in journalism, who studied theology and exegesis, is currently doing research on today's major monotheistic religions, on philosophy and various schools of thought.
CONTACT:rene.guitton@theglobalexperts.org
Location: Paris, France
Languages: English, French
Latest articles from Meenakshi Dalal