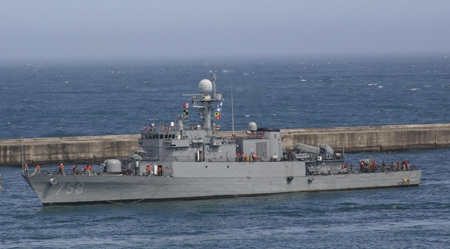 SEOUL, SOUTH KOREA: North Korea has received international condemnation after an inquiry found it responsible for the sinking of a South Korean warship in March.
46 sailors died when the corvette Cheonan was destroyed on 26 March; warship was sailing off Baengnyeong island close to the disputed inter-Korean maritime border.
An international investigation led by experts from the United States, UK, Sweden and Australia, has concluded that the Cheonan was torpedoed by a North Korean submarine.
Western states and Japan condemn North Korea, but China calls for "restraint" by all sides; North Korea dismisses inquiry findings and vows to declare war if new sanctions imposed.
Analysts say it will be difficult for the international community to find new diplomatic means to increase pressure on North Korea.
Analysts available for comment:
JAE HO CHUNG is associate professor at Seoul National University's Department of International Relations. A specialist in Chinese politics and Sino-Korean relations, he is Founding Coordinator of the Korean Association of Chinese Political Studies (KACPS).
jh.chung@theglobalexperts.org
Location: Seoul, South Korea

KATY OH is a researcher at the Institute for Defense Analyses and Senior Fellow at The Brookings Institution. She is an expert on North Korean politics and economy, South Korean politics and economy, Inter-Korean relations and U.S. foreign and security policy toward East Asia. Dr. Oh has presented briefings to the US Departments of State, Defense, and Energy.
katy.oh@theglobalexperts.org
Location: Washington, D.C., USA


HAZEL SMITH is Professor of Resilience and Security at Cranfield University, UK. She is a respected international media commentator on issues related to the DPRK and East Asian security. She regularly comments for the BBC, CNN, Voice of America, and Radio Free Asia.
hazel.smith@theglobalexperts.org
Location: Cranfield, UK

MARCUS NOLAND is senior fellow and deputy director of the Peterson Institute for International Economics in Washington, D.C. He is a specialist on the political economy of Korea, and is unique among American economists in having devoted serious scholarly effort to the problems of North Korea and the prospects for Korean unification. He won the 2001 Ohira Masayoshi Award for his book Avoiding the Apocalypse: The Future of the Two Koreas.
marcus.noland@theglobalexperts.org
Location: Washington, D.C., USA


LEON SIGAL is director of the Northeast Asia Cooperative Security Project at the US Social Science Research Council in New York. His book, Disarming Strangers: Nuclear Diplomacy with North Korea, was named the 1998 book of distinction by the American Academy of Diplomacy.
leon.sigal@theglobalexperts.org
Location: New York, USA


DAVID KANG is Associate Professor of Government and Research Director at the Center for International Business at the Tuck School of Business at Dartmouth. He is the co-author of Nuclear North Korea: A Debate on Engagement Strategies (Columbia, 2003). He frequently comments for the media on Korea issues, and writes a monthly column for the Oriental Morning News (Shanghai).
david.kang@theglobalexperts.org
Location: Hanover, New Hampshire, USA

Latest articles from Editor