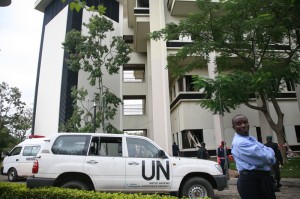 ABUJA, NIGERIA – The Nigerian government has entered into peace talks with Islamic sect Boko Haram, to discuss the possibility of a ceasefire.
(Source: Reuters/EuroNews)
Analysts available for comment:
Ali A. Mazrui, Ph.D. is the professor and director of the Center for Global Cultural Studies, State University of New York at Binghamton. Dr. Mazrui is also a senior scholar in Africana Studies at Cornell University in Ithaca, New York, and a senior fellow of the Prince Alwaleed Bin Talal Center for Muslim-Christian Understanding at Georgetown University in Washington, D.C.
CONTACT: ali.mazrui@theglobalexperts.org
Location: New York, U.S.A.
Languages: English; Kiswahili
Chloe Berwind-Dart is a manager at Tulsi Chanrai Foundation, an international development NGO in Nigeria. Her expertise is in the field of civil society and dispute resolution. She is a trained mediator with years of experience as a print media point-person for the not-for-profit organizations she has served in both Boston and Abuja, Nigeria.
CONTACT: chloe.berwind-dart@theglobalexperts.org
Location: Abuja, Nigeria
Language: English
Afyare A. Elmi, Ph.D. is a Somali-Canadian political scientist. He teaches international politics at the Qatar University's International Affairs Department. He is specialized in international security, conflict and peace-building, political Islam and African security and development.
CONTACT: a.abdielmi@globalexpertfinder.org
Location: Doha, Qatar
Languages: English; Somali
Sarjoh Bah is a Senior Fellow and Program Coordinator of African Security Institutions, at New York Universitys Center on International Cooperation. He is a leading authority on security cooperation in Africa with a particular focus on the African Union.
CONTACT: asarjoh.bah@theglobalexperts.org
Location: New York, U.S.A.
Language: English
Marc-Antoine Perouse de Montclos is a specialist on armed conflicts in sub-Saharan Africa, and a researcher at the Institut de Recherche pour le Développement, Paris. He has lived in Nigeria, South Africa and Kenya and is the author of many articles and books on the conflicts of sub-Saharan Africa.
CONTACT: marc.perouse@theglobalexperts.org
Location: Paris, France
Languages: English; French
Bill Ury is a highly experienced conflict negotiation adviser and mediator and chairman of the Abraham Path Initiative, a project which seeks to create unity between faiths through creating a permanent path of tourism and pilgrimage.
CONTACT: bill.ury@theglobalexperts.org
Location: Boston, U.S.A.
Languages: English, French
Fabienne Hara is Vice-President of International Crisis Group, and former Acting Chief of the Political Affairs Division for the UN Mission in Sudan. She has over fifteen years of experience in African conflict management and resolution issues.
CONTACT: fabienne.hara@theglobalexperts.org
Location: New York, USA
Languages: English, French
Photo: Abuja, Nigeria, Aug. 26, 2011 — A UN vehicle with its windows shattered inside the UN house after the blast in Abuja. A bomb blast at the United Nations building in Abuja killed at least 16 people.
Latest articles from Editor