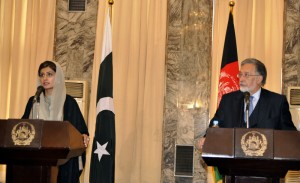 The BBC has published excerpts from a secret NATO report which describe the Pakistan government's support of the Taliban. Pakistan has dismissed the report.
Analysts available for comment:
Arabinda Acharya is research fellow and manager of strategic projects at the International Centre for Political Violence and Terrorism Research at Nanyang Technological University, Singapore. He is an expert on terrorism and conflict throughout the South Asia region.
CONTACT:Â arabinda.acharya@theglobalexperts.org
Location: Singapore
Language: English
Samina Ahmed, Ph.D. is South Director of the International Crisis Group. She oversees the group's work in Pakistan, Afghanistan, India and Nepal. Her team focuses on political, security and stability issues in South Asia, like Islamic extremism, domestic and regional terrorism, domestic insurgencies and the risk of inter-state conflict.
CONTACT:Â samina.ahmed@theglobalexperts.org
Location: Islamabad, Pakistan
Language: English, Urdu
Olivier Guillard is Asia Research Director for the Paris-based thinktank IRIS. His main tasks are to monitor political, military and strategic plans in Asia, including Afghanistan.
CONTACT:Â olivier.guillard@theglobalexperts.org
Location: Paris, France
Language: English, French
Will Hartley is Editor of IHS Jane's Terrorism & Insurgency Center. He heads a US-based team responsible for collecting and analyzing terrorism and insurgency related open source intelligence, profiling currently active non-state armed groups and producing major terrorist incident reports.
CONTACT:Â will.hartley@theglobalexperts.org
Location: Washington D.C., USA
Language: English
Swadesh Rana is a Senior Fellow at the World Policy Institute and former Chief of the Conventional Arms Branch in the UN Department of Disarmament Affairs.  Her current interest is in the modes of combat and tools of violence with a focus on South Asia.
CONTACT:Â swadesh.rana@theglobalexperts.org
Location: New York, USA
Language: Bangla, English, Hindi, Panjabi, Urdu
Amin Saikal is a leading authority on Afghanistan, and author of several books and papers, including Modern Afghanistan: A History of Struggle and Survival (2006).
CONTACT:Â amin.saikal@theglobalexperts.org
Location: Canberra, Australia
Language: English, Farsi, Pashto
Latest articles from Editor