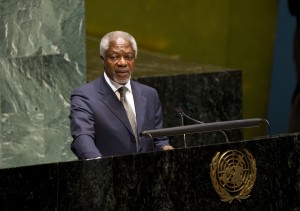 Kofi Annan has resigned from his position as the United Nations special envoy to Syria. The former UN Secretary-General will not renew his mandate when it expires at the end of this month. (Source: BBC News / Bloomberg).
Analysts available for comment:
Richard Barrett is a coordinator at the United Nations Analytical Support and Sanctions Implementation Monitoring Team, also known as the Al-Qaeda and Taliban Monitoring Team, appointed by the United Nations Secretary-General at the request of the Security Council.
CONTACT: richard.barrett@theglobalexperts.org
Location: North America
Language: English
Reza Aslan is a Middle East analyst for CBS News, and a fellow at the University of Southern California's Center on Public Diplomacy. He is a member of the Council on Foreign Relations, the Los Angeles Institute for the Humanities, and the Pacific Council on International Policy.
CONTACT: reza.aslan@theglobalexperts.org
Location: Los Angeles
Languages: English, Arabic
James Blake is an intelligence analyst for the Risk Advisory Group where he works on a variety of international security issues, including managing WorldAware, a product that informs clients throughout the world on issues of political and security risks. He also initiated the group's intelligence alerting service.
CONTACT: james.blake@theglobalexperts.org
Location: West Europe
Languages: Arabic, English
Abdallah Schleifer, Ph.D. is a veteran journalist who has covered the Middle East for American and Arab media for more than thirty years. He is Professor Emeritus at the American University in Cairo. New York Times columnist Tom Friedman has praised Professor Schleifer as "a great bridge-builder between cultures", saying "we Middle East correspondents are something of a fraternity and Abdallah has always been a credit to our little club. He is intensely independent, honest, and a wonderful explainer about both Islam and the Arab world."
CONTACT:abdallah.schleifer@theglobalexperts.org
Location: Middle East
Language: English
Benedetta Berti is a research fellow at the Institute for National Security Studies (INSS), a Young Atlanticist at the Atlantic Council, and a member of the faculty at Tel Aviv University. She also works as security and policy consultant for political risk consulting firms, international organizations as well as foreign embassies.
CONTACT: benedetta.berti@theglobalexperts.org
Location: Israel
Languages: Arabic, English, French, Hebrew, Italian, Spanish
Latest articles from Editor