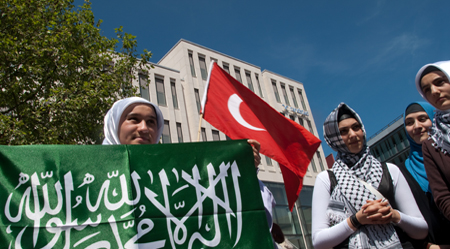 BRUSSELS, BELGIUM – The Israeli and Turkish governments have held their first high-level talks since the Gazi flotilla incident, in a bid to repair relations.
Israeli Trade Minister Benjamin Ben-Eliezer and Turkish Foreign Minister Ahmet Davutoglu secretly met in Brussels on Wednesday.
Meeting, which took place at the apparent urging of the US government, was first high-level contact between the two states since May.
Meeting ended in impasse over Israeli refusal to apologize for botched raid on Gaza aid ships on 31 May, or offer compensation to families of the nine Turkish victims.
Turkey was formerly Israel's strongest regional ally, but since May, Turkey has withdrawn its ambassador from Israel, suspended billions of dollars of military contracts, and refused permission for Israeli military aircraft to use its airspace.
Israeli Foreign Minister Avigdor Lieberman reported to be furious at Brussels talks, which took place without his advance knowledge; analysts suggest Israeli coalition government may be poised for fracture later in the year.
Analysts available for comment:
DANIEL LEVY is Director of the Middle East Task Force at the New America Foundation. He is the former special advisor and head of Jerusalem Affairs for Ehud Barak, and official Israeli negotiator at the Oslo  and Taba peace talks. See full bio…
daniel.levy@theglobalexperts.org
Location: Washington, D.C., USA




HUGH POPE is the Turkey Project Director for International Crisis Group. Based in Istanbul, he is a specialist on Turkish foreign policy, including EU-Turkey relations, Cyprus and Turkey's ties with its neighbours. Until taking up this post in 2007, Pope was a foreign correspondent for 25 years, most recently spending a decade as Turkey, Middle East and Central Asia Correspondent for The Wall Street Journal. See full bio…
hugh.pope@theglobalexperts.org
Location: Istanbul, Turkey




FADI HAKURA is a Turkey expert and associate fellow at Chatham House, the UK's leading foreign policy thinktank. He regularly comments for the international media on all aspects of Turkish politics, foreign and security policies, including EU accession issues and Turkey's regional relations.
fadi.hakura@theglobalexperts.org
Location: London, UK




JOOST HILTERMANN is Deputy Director of the Middle East and North Africa Program at International Crisis Group. He is an expert on Iraq, including issues relating to the political transition, constitutional process and the situation of the Kurds. From 1994-2002, he served as Executive Director of the Arms Control Division at Human Rights Watch. He was the primary researcher for HRW on the 1987-88 Al-Anfal campaign by Saddam Hussein's regime — a campaign that sought to annihilate northern Iraq's Kurdish population. See full bio…
joost.hiltermann@theglobalexperts.org
Location: Washington, DC, USA




ALEX VATANKA is Middle East Senior Analyst for IHS Jane's, the only civilian organization to have an office in the Pentagon. Vatanka specializes on the geopolitics of the Middle East, and the security situation in Iran, Afghanistan and the Gulf Cooperation Council states. He is the managing editor of Jane's Islamic Affairs Analyst. He is a specialist on Iran, the GCC states, Middle East regional affairs, and US policy on Middle East. See full bio…
alex.vatanka@theglobalexperts.org
Location: Washington, DC, USA




GILLES KEPEL is Professor and Chair, Middle East and Mediterranean Studies, at the Institut d'Études Politiques de Paris (Sciences Po). He is a contributor to the Financial Times, Le Monde, La Repubblica, El Pais, Al Hayat, and a number of Arabic language and international newspapers. Some of his recent publications include: Beyond Terror and Martyrdom:The War for Muslim Minds, Jihad: the Trail of Political Islam and Bad Moon Rising : a Chronicle of the Middle East Today. See full bio…
gilles.kepel@theglobalexperts.org
Location: Paris, France
Latest articles from Editor