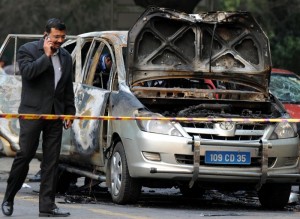 BANGKOK- An Iranian national injured five people, including himself, after throwing a grenade at Thai police. There had been an explosion reported earlier at the man's rented house in central Bangkok. The attack comes one day after a bomb exploded at an Israeli embassy in India and another one was defused at the embassy in Georgia.
(Source:Â New York Times, Bangkok Post)
Analysts available for comment:
Ajay Chhibber is Assistant Secretary-General and Assistant Administrator at the United Nations Development Programme (UNDP) and head of its Asia-Pacific Bureau.
CONTACT:Â ajay.chhibber@theglobalexperts.org
Location: Bangkok, Thailand
Languages: English
Meir Javedanfar is currently the director of the Middle East Economic and Political Analysis Company (MEEPAS), which carries out analysis of sixteen Middle Eastern countries from its offices in Tel Aviv, Israel.
CONTACT:Â m.javedanfar@theglobalexperts.org
Location: Tel Aviv, Israel
Languages: English, Spanish
Reza Aslan is a Middle East analyst for CBS News, and a fellow at the University of Southern California's Center on Public Diplomacy. He is an internationally acclaimed writer and scholar of religions, and holds degrees in religion from Santa Clara University, Harvard University, and the University of California, Santa Barbara, as well as a Master of Fine Arts from the University of Iowa.
CONTACT:Â reza.aslan@theglobalexperts.org
Location: Los Angeles, U.S.A.
Languages: Arabic; English
Elazar Barkan is co-director for the Center for the Study of Human Rights, and professor of international and public affairs at Columbia University. He is a frequent commentator on issues related to the Israel-Palestine conflict.
CONTACT:Â elazar.barkan@theglobalexperts.org
Location: New York
Language: English
Photo: Investigators work at the scene where the New Delhi bomb wrecked a vehicle with diplomatic plates and Israel's parliamentary television channel said the wife of Israel's defence attache and her driver were among four people hurt. — Feb. 13, 2012.
Latest articles from Editor