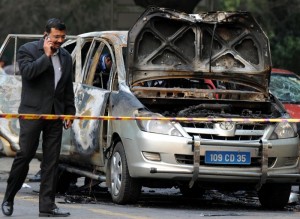 NEW DELHI – A bomb exploded at the Israeli embassy here, injuring four people, including the wife of the Israeli Defense attache. A second bomb found at the embassy  in Tbilisi, Georgia was defused. Israeli Prime Minister Benjamin Netanyahu says Iran is responsible for the attack.
Analysts available for comment:
Meir Javedanfar is currently the director of the Middle East Economic and Political Analysis Company (MEEPAS), which carries out analysis of sixteen Middle Eastern countries from its offices in Tel Aviv, Israel.
CONTACT:Â m.javedanfar@theglobalexperts.org
Location: Tel Aviv, Israel
Languages: English, Spanish
Reza Aslan is a Middle East analyst for CBS News, and a fellow at the University of Southern California's Center on Public Diplomacy. He is an internationally acclaimed writer and scholar of religions, and holds degrees in religion from Santa Clara University, Harvard University, and the University of California, Santa Barbara, as well as a Master of Fine Arts from the University of Iowa.
CONTACT:Â reza.aslan@theglobalexperts.org
Location: Los Angeles, U.S.A.
Languages: Arabic; English
Elazar Barkan is co-director for the Center for the Study of Human Rights, and professor of international and public affairs at Columbia University.
CONTACT:Â elazar.barkan@theglobalexperts.org
Location: New York
Language: English
Alex Vatanka is the U.S. based IHS Jane's Middle East Senior Analyst. Vatanka specializes on the geopolitics of the Middle East. He is a specialist on Iran, the GCC states, Middle East regional affairs, and U.S. policy in the Middle East.
CONTACT:Â alex.vatanka@theglobalexperts.org
Location: London, U.K.
Language: English
Daniel Levy is Director of the Middle East Task Force at the New America Foundation. He is the former special advisor and head of Jerusalem Affairs for Ehud Barak.
CONTACT:Â daniel.levy@theglobalexperts.org
Location: Washington, D.C., USA
Languages: English, Hebrew
Photo: Investigators work at the scene where the New Delhi bomb wrecked a vehicle with diplomatic plates and Israel's parliamentary television channel said the wife of Israel's defence attache and her driver were among four people hurt. — Feb. 13, 2012.
Latest articles from Editor