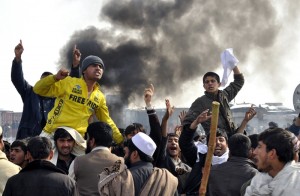 KABUL – Protesters demonstrated in front of an American air base after discovering that copies of the Quran had been burned at another air base. NATO commander John Allen says the burning was not intentional and a probe has been ordered. (Sources: CBS, AP)
Analysts available for comment:
Patricia DeGennaro, Ph.D. is a senior fellow at the World Policy Institute and a subject matter expert on Afghanistan and Iraq for the U.S. Army's Training and Doctrine Command Center for Intelligence. She recently returned from Iraq where she studied first hand the military transition to civil authority.
CONTACT:Â patricia.degennaro@theglobalexperts.org
Location: New York, U.S.A.
Languages: English; Albanian
Amin Saikal, Ph.D. is the director of the Centre for Arab and Islamic Studies at Australian National University. He is a leading authority on Afghanistan, and author of Modern Afghanistan: A History of Struggle and Survival (2006).
CONTACT:Â amin.saikal@theglobalexperts.org
Location: Canberra, Australia
Languages: English; Farsi; Pashto
Baqer Moin has been writing and broadcasting about politics and society in Afghanistan, Iran and Central Asia for more than three decades. From 1990-2004 he was head of the BBC Persian and Pashto Service, responsible for broadcasts to Afghanistan, Iran and Tajikistan. He served as deputy chair of the UN Media Commission for the 2005 Afghan parliamentary elections.
CONTACT:Â baqer.moin@theglobalexperts.org
Location: London, U.K.
Languages: English; Arabic
John Marks is the president and founder of Search for Common Ground, a non-profit conflict resolution NGO with offices in 18 countries. He also founded and heads Common Ground Productions.
CONTACT:Â john.marks@theglobalexperts.org
Location: Washington, D.C., U.S.A.
Languages: English
Iason Athanasiadis is a photojournalist, documentary film-maker and international lecturer working on the intersection of the Eastern Mediterranean with the Arab, Persian and Turkic Middle East and Central Asia. He is currently based between Istanbul and Kabul.
CONTACT:Â iason.athanasiadis@theglobalexperts.org
Location: Kabul, Afghanistan; Istanbul, Turkey
Languages: Arabic, English, Greek, Persian
Photo: Hundreds of people, protesting against the alleged burning of the Holy Quran by US troops at the Bagram Airbase in central Parwan province, blocked the Kabul-Jalalabad highway.
Latest articles from Editor