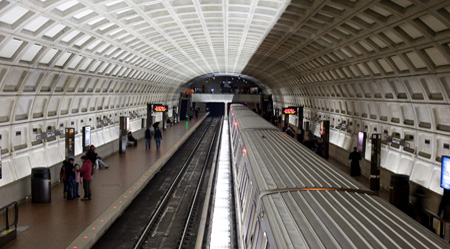 WASHINGTON DC, USA – A man has been arrested over a plot to bomb subway stations in the US capital.
US Department of Justice says Farooque Ahmed, 34, of Ashburn, Virginia was conspiring with people he believed were from Al Qaeda, but part of an FBI sting operation.
Ahmed was taken into custody this morning. He has been indicted on three charges: collecting information to assist in a terrorist attack, attempting to provide material support to a designated terrorist organization, and attempting to provide material support to help carry out multiple bombings.
Suspect is believed to be originally from Pakistan.
Global Experts available for immediate analysis.
Analysts available for comment:
WILL HARTLEY is the editor of Jane's Terrorism and Insurgency Centre (JTIC), based in Washington DC. He leads a team responsible for collecting and analysing terrorism and insurgency related open source intelligence, producing country briefings, case study and major terrorist incident reports. See full bio…
will.hartley@theglobalexperts.org
Location: Washington, D.C., USA
Languages: English




RICHARD BARRETT is an expert on Al Qaeda. He is based in New York City. Since March 2004 he has been the Coordinator of the United Nations Analytical Support and Sanctions Implementation Monitoring Team, also known as the Al Qaeda-Taliban Monitoring Team, appointed by the UN Secretary-General at the request of the Security Council. See full bio…
richard.barrett@theglobalexperts.org
Location: New York, USA
Languages: English, French




SAMINA AHMED is South Asia Project Director for International Crisis Group. She leads a team of analysts focusing on examination of political, security and stability issues throughout South Asia, including problems of authoritarianism; Islamic extremism, domestic and regional terrorism; educational, security sector reform; and the US and NATO interventions.
samina.ahmed@theglobalexperts.org
Location: Islamabad, Pakistan
Languages: English, Urdu




HENRY WILKINSON is Associate Director at Janusian Intelligence. He is specialist on terrorism, asymmetric warfare, and intelligence, and frequently comments on the threat of Al Qaeda and Islamist extremism. See full bio…
henry.wilkinson@theglobalexperts.org
Location: London, UK
Languages: English




GILLES KEPEL is Professor and Chair, Middle East and Mediterranean Studies, at the Institut d'Etudes Politiques de Paris (Sciences Po). He is a contributor to the Financial Times, Le Monde, La Repubblica, El Pais, Al Hayat, and a number of Arabic language and international newspapers. Some of his recent publications include: Beyond Terror and Martyrdom: The War for Muslim Minds, Jihad: the Trail of Political Islam and Bad Moon Rising: a Chronicle of the Middle East Today. See full bio…
gilles.kepel@theglobalexperts.org
Location: Paris, France
Languages: English, French
Latest articles from Editor