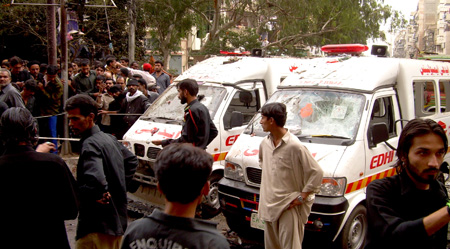 KARACHI, PAKISTAN – At least 20 people have been killed and more than 100 injured in a militant attack against the anti-terror police headquarters in Pakistan's largest city.
Combined small arms and truckbomb attack destroyed the Criminal Investigation Department (CID) building.
Attack followed arrests in Karachi yesterday of several suspected members of the Lashkar-e-Jhangv terrorist group, believed to have been plotting attacks against the Shia community.
Analysts say latest attack shows growing capabilities and confidence of militants.
Analysts available for comment:
SAMINA AHMED is South Asia Project Director for International Crisis Group. She leads a team of analysts focusing on examination of political, security and stability issues throughout South Asia, including problems of authoritarianism; Islamic extremism, domestic and regional terrorism; educational, security sector reform; and the US and NATO interventions.
samina.ahmed@theglobalexperts.org
Location: Islamabad, Pakistan
Languages: English, Urdu




HASSAN ABBAS is a former Pakistani government official who served in the administrations of Prime Minister Benazir Bhutto (1995-6) and President Pervez Musharraf (1999-2000).He is currently Quaid-i-Azam Chair and Professor at Columbia University's South Asia Institute. His latest book, Pakistan's Drift into Extremism: Allah, the Army and America's War on Terror has been on bestseller lists in India and Pakistan and was widely reviewed internationally.
hassan.abbas@theglobalexperts.org
Location: New York, USA
Languages: English, Punjabi, Urdu




AKBAR AHMED is the former High Commissioner of Pakistan to the United Kingdom, and First Distinguished Chair of Middle East and Islamic Studies at the US Naval Academy, Annapolis. He has taught at Princeton, Harvard, and Cambridge universities and been called "the world's leading authority on contemporary Islam" by the BBC. He has advised General David Petraeus, Ambassador Richard Holbrooke, and other US agencies on Islam and foreign policy.
akbar.ahmed@theglobalexperts.org
Location: Washington DC, USA
Languages: English, French, Urdu, Pashto




OLIVIER GUILLARD is Asia Research Director for the Paris-based thinktank IRIS (Institut de Relations Internationales et Stratégiques). He previously worked for the French Ministry of Defence as a geopolitical expert, with a chief focus on South Asian affairs.
olivier.guillard@theglobalexperts.org
Location: Paris, France
Languages: English, French




ARABINDA ACHARYA is research fellow and manager of strategic projects at the International Centre for Political Violence and Terrorism Research at Nanyang Technological University, Singapore. He is an expert on terrorism and conflict throughout the South Asia region. See full bio…
arabinda.acharya@theglobalexperts.org
Location: Singapore
Languages: English



Latest articles from Editor