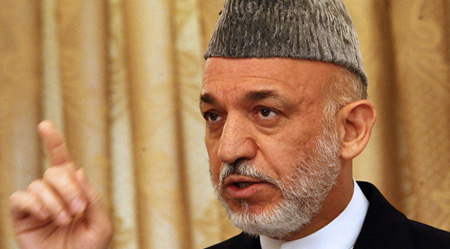 AFGHANISTAN – Afghan President Hamid Karzai has acknowledged that his office has received millions of dollars in cash donations from the government of Iran.
Responding to US media claims of Iranian cash being used to buy influence in Afghanistan, President Karzai admitted that hundreds of thousands of euros were regularly delivered to his office in bags of cash.
Karzai claims the donations were received in a "transparent" manner and used only for office expenses.
Iranian Embassy in Kabul denies it has provided cash to the Afghan government, calling claims "insulting."
Admission is likely to add further tension to Karzai's relationship with Washington.
Analysts available for comment:
SAMINA AHMED is South Asia Project Director for International Crisis Group. She leads a team of analysts focusing on examination of political, security and stability issues throughout South Asia, including problems of authoritarianism, Islamic extremism, domestic and regional terrorism, and the US and NATO interventions.
samina.ahmed@theglobalexperts.org
Location: Islamabad, Pakistan
Languages: English, Urdu




PATRICIA DEGENNARO is Senior Fellow at the World Policy Institute and a subject matter expert on Afghanistan and Iraq for the US Army's Training and Doctrine Command Center for Intelligence. She recently returned from Iraq where she studied first hand the military transition to civil authority. See full bio…
patricia.degennaro@theglobalexperts.org
Location: New York, USA
Languages: English, Albanian




AMIN SAIKAL is Director of the Centre for Arab and Islamic Studies  at Australian National University. He is a leading authority on Afghanistan, and author of Modern Afghanistan: A History of Struggle and Survival (2006). See full bio…
amin.saikal@theglobalexperts.org
Location: Canberra, Australia
Languages: English, Farsi, Pashto




BAQER MOIN has been writing and broadcasting about politics and society in Afghanistan, Iran and Central Asia for more than three decades. From 1990-2004 he was head of the BBC Persian and Pashto Service, responsible for broadcasts to Afghanistan, Iran and Tajikistan. He served as deputy chair of the UN Media Commission for the 2005 Afghan parliamentary elections. See full bio…
baqer.moin@theglobalexperts.org
Location: London, UK
Languages: English, Arabic




MEIR JAVEDANFAR is Director of the Middle East Economic and Political Analysis Company, which carries out analysis of 16 Middle Eastern countries from its offices in Tel Aviv, Israel. He is co-author of The Nuclear Sphinx of Tehran: Mahmoud Ahmadinejad and The State of Iran, an investigation into the state of the Iranian nuclear program. See full bio…
m.javedanfar@theglobalexperts.org
Location: Tel Aviv, Israel
Languages: English, Farsi, Spanish, Portuguese




MARK FOWLER is an Associate at Booz Allen Hamilton and a former senior CIA officer. He is a Middle East specialist and served numerous tours overseas and in Washington DC. He has particular expertise on Iran and Iraq, and speaks Farsi. Mr. Fowler currently leads Booz Allen Hamilton's 'Persia House,' a Center of Excellence on Iran and the Persian Gulf. See full bio…
mark.fowler@theglobalexperts.org
Location: Washington DC, USA
Languages: English, Farsi
Latest articles from Editor