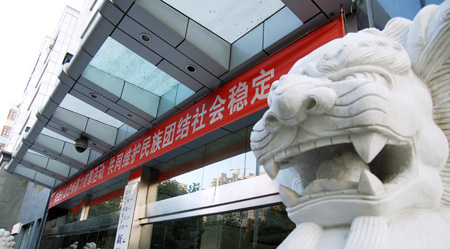 BEIJING – China has summoned the Japanese Ambassador for the fifth time to demand the release of a Chinese fishing boat captain, in the worst diplomatic row between the two countries in years.
Chinese fishing boat crew were detained on 7 September after colliding with Japanese coastguard vessels in disputed waters in the East China Sea.
Crew was released on Monday after repeated summoning of the Japanese Ambassador to Beijing, but captain remains in detention.
Tensions mount between China and Japan, with Beijing cancelling talks on joint energy exploration in the East China Sea, cancelling a trip by a senior legislator to Tokyo, and likely scrapping a meeting between the Chinese Premier and the Japanese Prime Minister on the edge of the UN General Assembly next week.
Chinese nationalists call for anti-Japan protests ahead of 79th anniversary on Sunday of Japanese occupation of China.
Analysts available for comment:
PAN GUANG is the Director and Professor of the Shanghai Center for International Studies and Director of the Shanghai Cooperation Organization (SCO) Studies Center. He is also International Council Member of the Asia Society in the United States. He frequently comments on Chinese politics, foreign and regional policy.
pan.guang@theglobalexperts.org
Location: Shanghai, China
Languages: Chinese, English
KATY OH is a researcher at the Institute for Defense Analyses and Senior Fellow at The Brookings Institution. She is an expert on Japanese foreign policy, and frequently comments on inter-Asian cooperation issues, East Asian culture and society, and US foreign policy toward East Asia.
katy.oh@theglobalexperts.org
Location: Washington DC, USA
Languages: English, Korean, Japanese
JAO HO CHUNG is Associate Professor in Seoul National University's Department of International Relations. He is a specialist on Chinese politics, and founding coordinator of the Korean Association of Chinese Political Studies.
jh.chung@theglobalexperts.org
Location: Seoul, South Korea
Languages: English, Chinese, Korean
MARCUS NOLAND is deputy director of the Peterson Institute for International Economics. He formerly served as Senior Economist at the Council of Economic Advisers in the Executive Office of the President of the United States. He is an expert on US-Japanese relations, and the political economy of Japan.
marcus.noland@theglobalexperts.org
Location: Washington DC, USA
Languages: English
AUGUSTO SOTO is a China analyst and lecturer at the ESADE Business School in Barcelona. He is the former Beijing correspondent for the Spanish news agency EFE. He is a renowned commentator on Chinese politics, foreign policy and East Asian security issues, and frequently comments for the BBC, Radio France and other media outlets.
augusto.soto@theglobalexperts.org
Location: Barcelona, Spain
Languages: English, Spanish, Russian, Chinese, Italian, German
ALEX GABUEV is political correspondent for Kommersant, the leading Russian business newspaper. He formerly served as China correspondent for the newspaper, and has published numerous articles covering Chinese domestic and foreign policy. He previously reported from the 17th Congress of the Communist Party of China.
EMAIL: alexander.gabuev@theglobalexperts.org
Location: Moscow, Russia
Languages: English, Chinese, Russian
KAROLINE POSTEL-VINAY is Director of Research at Sciences Po Center for International Studies and Research in Paris. She is a Japan specialist, and the author among other works of Japan and the New Asia.
postelvinay@ceri-sciences-po.org
Location: Paris, France
Languages: English, French, Japanese
Latest articles from Editor