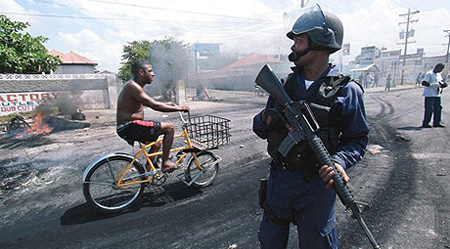 KINGSTON, JAMAICA: The Jamaican capital has entered its fourth day of fighting between security forces and supporters of a fugitive drug lord.
At least 40 civilians have been killed in gun battles since Sunday, when security forces tried to arrest Christopher 'Dudus' Coke.
Coke is wanted on charges by the US government, who say that he is one of the most dangerous drug lords in the world; his whereabouts are currently unknown.
Police conduct house to house searches, and Kingston remains under state of emergency.
Attempt to extradite Coke touches on deep-seated social tensions in Jamica and perceptions of United States; Coke is viewed by many Jamaicans as a local hero, and protests have been held to denounce US extradition.
Analysts available for comment:
MARKUS SCHULTZE-KRAFT is Latin American & Caribbean Program Director for International Crisis Group. Working with a three-member team he drafts reports on countries in the region, and engages in regular policy dialogue with decision-makers in Latin America and Europe. He is an expert on conflict and organized crime throughout Latin America and the Caribbean. He is fluent in German, English and Spanish. View full bio…
markus.sk@theglobalexperts.org
Location: Bogota, Colombia




STEPHEN SCHLESINGER is an Adjunct Fellow at the Century Foundation in New York City, and former Director of the World Policy Institute at the New School University. He is a specialist on the foreign policy of the Clinton and Bush Administrations, and former speechwriter and foreign policy advisor to New York Governor Mario Cuomo. He is considered an authority on Latin America and Caribbean issues. He is the author of three books, including Act of Creation: The Founding of The United Nations, Bitter Fruit: The Story of the U.S. Coup in Guatemala, and The New Reformer. View full bio…
stephen.schlesinger@theglobalexperts.org
Location: New York, USA




ROB MUNKS is the UK Based IHS Jane's Americas Analyst. Munks is an expert in international relations and political risk, specializing in Latin America, the Caribbean, and U.S. foreign and security policy. He also has worked extensively on trans-national issues, including counter narcotics and counter-terrorism. View full bio…
rob.munks@theglobalexperts.org
Location: London, UK



Latest articles from Editor