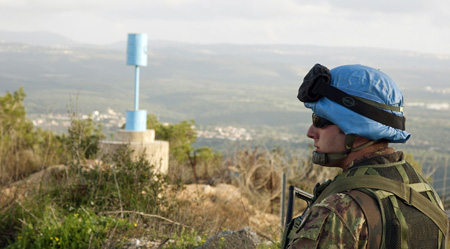 ADAYSSEH, LEBANON: Three Lebanese soldiers, an Israeli officer and a Lebanese journalist have been killed in a clash on the border between Israel and Lebanon.
Lebanese military says their troops opened fire on Israeli soldiers after they illegally crossed the border near the town of Adaysseh, on the Lebanese side of the border.
Israel says their troops returned fire after coming under attack on the Israeli side of the border, near the town of Kiryat Shemona.
One senior Israeli military officer confirmed dead in incident, with an Israeli captain also critically wounded. Three Lebanese soldiers were killed, and four wounded.
Incident is first serious border clash since 2006 war between Israel and Lebanese terrorist movement Hezbollah; UN calls for 'maximum restraint' between both sides.
Analysts say Israeli or Lebanese soldiers may have made mistake in identifying border.
Analysts available for comment:
MEIR JAVEDANFAR is Director of the Middle East Economic and Political Analysis Company, which carries out analysis of 16 Middle Eastern countries from its offices in Tel Aviv, Israel. He is the co-author of The Nuclear Sphinx of Tehran: Mahmoud Ahmadinejad and The State of Iran, an investigation into the mysterious past of President Mahmoud Ahmadinejad as well as the state of the Iranian nuclear program. He speaks Farsi, English, Spanish and Portuguese fluently, and has commented in all of these languages for a wide range of international media organizations. See full bio…
m.javedanfar@theglobalexperts.org
Location: Tel Aviv, Israel




ALEX VATANKA is Middle East Senior Analyst for IHS Jane's, the only civilian organization to have an office in the Pentagon. Vatanka specializes on the geopolitics of the Middle East, and the security situation in Iran, Afghanistan and the Gulf Cooperation Council states. He is the managing editor of Janes Islamic Affairs Analyst. He is a specialist on Iran, the GCC states, Middle East regional affairs, and US policy on Middle East. See full bio…
alex.vatanka@theglobalexperts.org
Location: Washington, DC, USA




ABDALLAH SCHLEIFER is a veteran journalist who has covered the Middle East for American and Arab media for more than thirty years. From 2006 to 2007, he was Washington Bureau Chief for the Al Arabiya TV network, and has previously worked for NBC, The New York Times, and The Jerusalem Star. He currently serves as Professor Emeritus at the American University in Cairo. See full bio…
abdallah.schleifer@theglobalexperts.org
Location: Cairo, Egypt




RAGHIDA DERGHAM is a Lebanese-American commentator and senior diplomatic correspondent for Al Hayat, the leading Arabic daily. She is also a political analyst for NBC. See full bio…
raghida.dergham@theglobalexperts.org
Location: New York, USA
Latest articles from Editor